Golden Tile, Richard Fl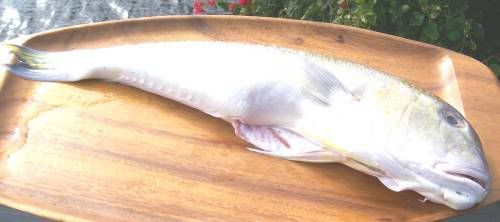 This 4 # fresh golden tilefish came home yesterday. Wasn't sure how I wanted to cook and then remembered that Mad Max had done some fish in a wok/bamboo steamer a few years back and at Eggtoberfest '06 did some salmon. So I pirated the idea from him. Thanks Max.
INGREDIENTS:
What you'll need
Wok that fits in egg, Had TJV's Spider and used it in high position.
Bamboo Steamer Baskets
1 Bag Baby spinach leaves
Fresh Ginger, cut into slivers
Couple Scallions, finely chopped
One Bottle Dry sherry
Teriyaki Sauce
1 4 Lbs Golden Tile, Whole
Smoke:
2 Pouches Lipton Tea, Large bags wrapped in foil and then poked several holes
Procedure:
1 BGE large: Build fire in center of egg, dome temp was around 350°F-375°F, but this is not as important as having direct heat under your wok)
2 Bad Fit!
3 Much Better Fit:
4 Place layer of spinach leaves (about ½ bag) in each steamer basket. On top of leaves place half of the tile cut in the middle. Sprinkle ginger and scallions on top of that.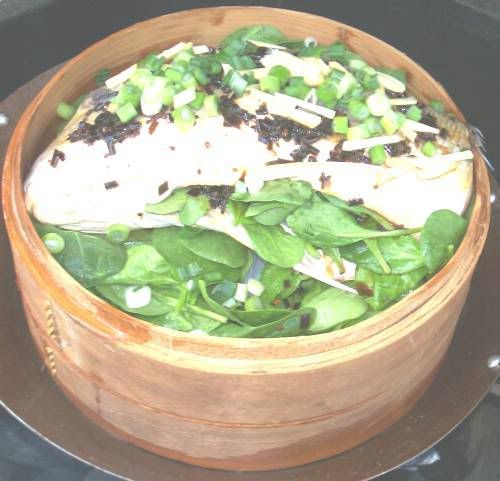 5 In the cold wok, pour about 2 cups of sherry and about ½ cup of teriyaki sauce. Set the steamer basket stack on the wok. Place the entire wok/steamer basket stack in the egg close to the fire. Close dome. Used TJV's Spider in the high position.Check fish after about 20 minutes and pulled at 30 minutes This whole fish was about 2 1/2-3 inches thick.Filets should cook 15-20 minutes ,Shouldn't take more than 20 minutes to be done. Also, if the liquid is reducing too much in the wok, simply add the rest of the bottle of sherry.
6 Best served in large bowls, with the spinach, and pour some of the left over liquid from the wok on top of it.
Recipe Type
Seafood
Recipe Source
Source: BGE Forum, Richard Fl, 2009/02/09
This recipe also works great with Chilean Sea Bass and Halibut, and probably any other thick fish.
2006/04/29-Mad Max--
Sea Bass, Hong Kong, Mad Max Beyond Eggdome A little background . . a couple of weeks ago i was at a restaurant and had something called hong kong sea bass. ..menu said: sea bass steamed on bed of lettuce with ginger and scallions and served with broth of sherry and soy sauce. ..frankly it was the best fish i'd eaten in a restaurant in many years ....knew i had to duplicate it in the egg. .. so. .. i bought a traditional oriental bamboo steamer (two level with lid). .. .ran some water all over it so it wouldn't get burned in the egg. .. set up my large egg with my wok ring and center fire, about 350 degrees dome temp. ..laid a big bed of fresh baby spinich and a couple of filets of sea bass on each of the steamer trays along with some slivers of fresh ginger and scallions. . .poured about 1 cup of sherry and about 1/3 cup of soy sauce into the cold wok and then set the steamer basket set in the wok over the liquid. ...set the whole thing in the wok ring and closed the dome for about 15 minutes ... . pulled the entire wok set up out after about 15 minutes, careful not to lose the broth in the wok. .. .plated the fish on top of the wilted spinach (oh, btw, use lots of spinach, it really shrinks down). ..and then spooned some of the broth on top ... my wife LOVED it .. .we agreed it may be the best fish i've ever made and ranks right up with some of the best egg food i've ever made. .. .