Our first eggsperience with the egg was pulled pork. As I posted earlier, the fire went out a couple of times. After the second relight, the temp went up to 250-260 and I couldn't get it to come down. Any ideas there? I had 1-2 columns of holes showing on the lower vent and the daisy wheel almost closed. I had hooked up the Maverick earlier and the temp of the pork started climbing about a degree every 10 minutes. Weird that when it hit 195 (I had the Mav set to alarm at 196), it held there for a while. I checked a few other places with the Thermapen and it was in the 190's.
Here's the done pork. Ignore the scrunched up drip pan, it worked. BTW, do most of you put liquid in the drip pan? I heard some sizzling a few times.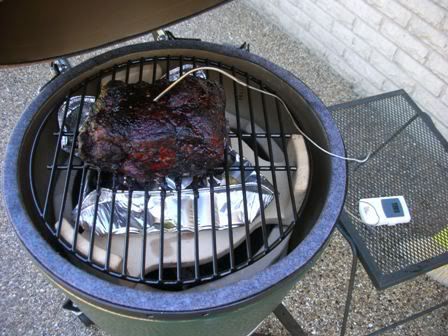 This was around 3:15, 15 hours total cook. We brought it in, foiled it and put in a cooler with a bunch of newspaper for a couple of hours. My wife then convinced me to put it back in the egg, which was at around 180. Right before dinner, we brought it in to pull. Limes in the background were for some small margaritas to drink while pulling.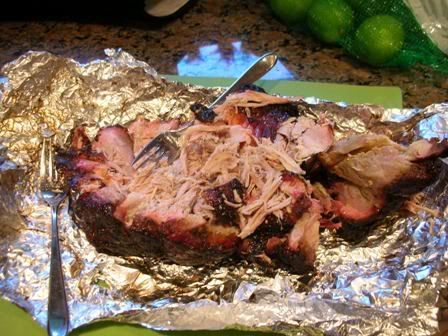 We put it in with some Twin Anchors Zesty Sauce to heat up. Twin Anchors is an AMAZING rib restaurant 75+ years old in Chicago. They filmed the movie Return to Me there a few summers ago. Not too big; hours wait on a summer Saturday night. OT, I know.
Here's dinner. Alien Ale is from Sierra Brewing in New Mexico. Had a case shipped up; not available locally.
Amy's cole slaw was great. She used a recipe from about.com: Country-Style cabbage slaw. Recipe is for 12-14: 1 cup light sour cream, 1/2 cup mayo, 1/4 c white wine vinegar, 2 Tblsp sugar, 1 Tblsp celery seed, 1 tsp salt, 1/4 tsp cayenne pepper, 5 cups shredded green cabbabe, about 1.5 lbs, 4 cups shredded red cabbage, about 1 lb, 4 medium stalks celery, thinly sliced diagonally, 2 medium carrots, coarsely grated.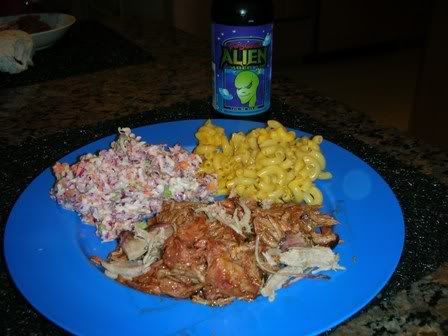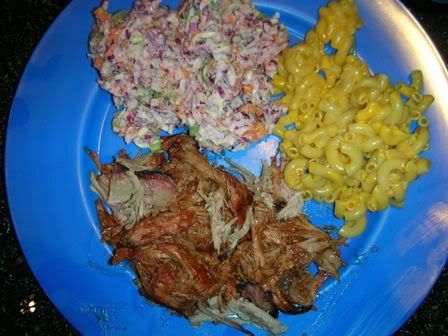 Overall, I enjoyed it, even waking up at 3 am and 5:30 am. Amy thought it was too much work and kind of a hassle, but in the end had to admit it was pretty tasty. Our son chowed the pork, so that was good.
I hope it was my poor initial fire construction. The food was awesome, to me. I've got some leftover pork, too with a lot of bark.
We're gonna do some stuff that doesn't take so long, like a vertical chicken. I still want to do a brisket; I'm on vacation Aug 16-24 and staying home; maybe then. Our son wants to do ribs, too.
I'm envious of all of you who make it look so easy and tasty. I'm gonna keep at it.