My wife and two daughters went to her parent's place for Easter while I stayed home to do some home improvements. Although I missed a good sugarbush visit, I got the pleasure of cooking whatever I wanted, whenever I wanted on my eggs.
On Saturday morning I visited the big box grocer and it had a bunch of beef marked down due to the Friday holiday. I spyed a package of thick beef tenderloin steaks and had to do a doubletake on the price - regular $1.44, marked down another 50%. I looked at the steaks to verify they were tenderloins, which they were, then realized the problem - the package had been labelled as a frozen turkey, which sells for 15% the cost of the tenderloins. Into the basket they went. Two were good, while one was a bit green for my taste so it went in the trash. These two puppies ended up costing me 50 cents for the pair.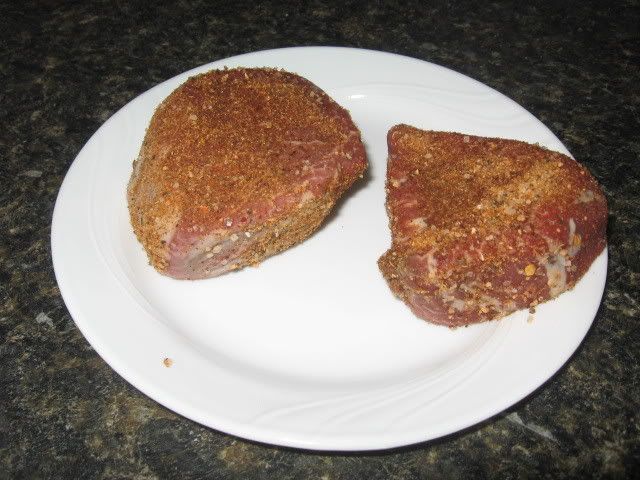 For Saturday lunch, I covered them in DP RTS and Trex'd them on my mini, finishing off with some mesquite smoke.
Plates with some garlic bread, roasted finger potatoes and roasted butternut squash for a tasty and filling lunch.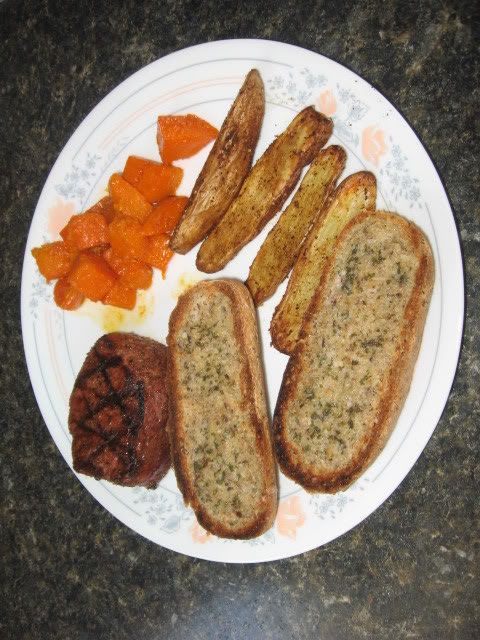 With the money I saved I spent on a nice sushi-grade tuna steak. It was my first tuna steak on the egg, so I quartered it and did two pieces with Raging River and rwo with sea salt and pepper. Ate one of each and saved the other for lunch this week.
Who says a mini lacks utility because of its small size!!!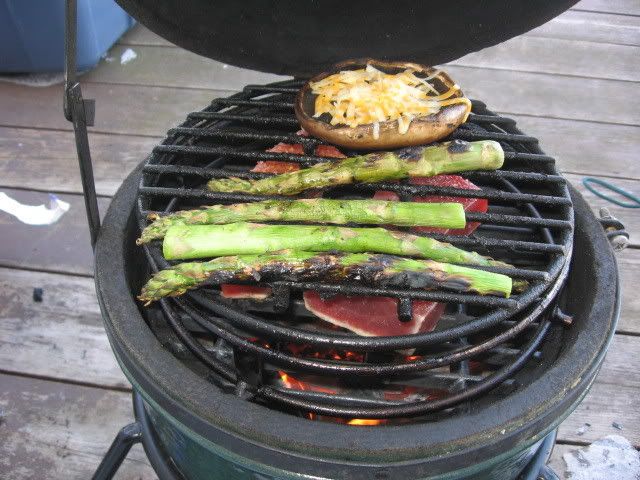 Lastly, on Sunday evening I spatchcocked a cornish game hen that was dusted with a little Raging River. God that was good. Half of that hen is slated for tomorrow's lunch and I'm so looking forward to it!!!!