Welcome to the EGGhead Forum - a great place to visit and packed with tips and EGGspert advice! You can also join the conversation and get more information and amazing kamado recipes by following Big Green Egg at:
Facebook  |  Twitter  |  Instagram  |  Pinterest  |  Youtube  |  Vimeo
Share your photos by tagging us and using the hashtag #EGGhead4Life.
In Atlanta? Come visit Big Green Egg headquarters, including our retail showroom, the History of the EGG Museum and 
Culinary Center
!  3786 DeKalb Technology Parkway, Atlanta, GA 30340.
2nd Tri-Tip... still my new favorite red meat!
Hey Gang,[p]I just finished up my 2nd tri-tip cook and all I can say is that 30 minutes after eating, my mouth is still happy![p]If you haven't tried these, do so soon - the flavor jumps off the fork![p]Here is how I did them today (same as the 1st time...):[p]Started with 2 tri-tip roasts from Costco. (These are the trimmed ones, not the ones that come in the big cryo-pack) The total weight was 3.5 lbs and they have no fat cap. Went with DP Cow lick about 5 hours before cooking - nothing else.[p]Fired up my small BGE, let it get up to 800ish in the dome and seared them for 2 minutes per side. (No smoke, fresh lump, red hot - lava if I may borrow from TRex.) Then I took them off and rested until the dome came down to 400 (I don't know how long in minutes but it was about 3 very light beers....25 min or so.)[p]Next was a fist full of maple chips and a fist full of cherry chips. Then I put the roasts back on and flipped every 3-4 minutes until 125 degrees. During all the flipping I was brushing with "frontera Barbecue & Grill Sauce, Rustic Ancho Honey" by Rick Bayless of Frontera grill in Chicago (not to go to far astray but if any of you ever need a restaurant recommendation in Chicago, you can not go wrong with his Frontera Grill/Topolobampo. I have been stopping in there for 15+ years and have truly enjoyed every bite of food I have ever had there...)[p]After resting we dug in and are now 2 for 2 with Tri-Tip.... Happy Mouth![p]Here are a few pics:[p]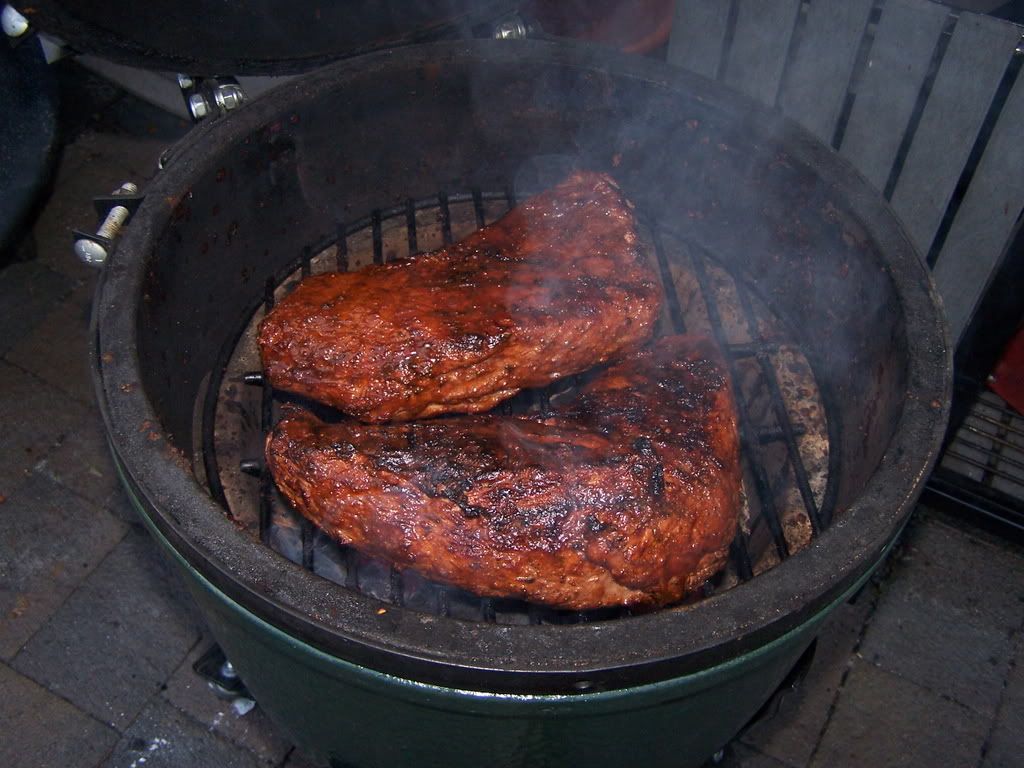 [p]
[p]
[p]
Cheers![p]
ps - doesn't my gasket look pretty? It leaks a little and is all crunchy but I seem to have grown fond of it....