Welcome to the EGGhead Forum - a great place to visit and packed with tips and EGGspert advice! You can also join the conversation and get more information and amazing kamado recipes by following Big Green Egg at:
Facebook  |  Twitter  |  Instagram  |  Pinterest  |  Youtube  |  Vimeo
Share your photos by tagging us and using the hashtag #EGGhead4Life.
In Atlanta? Come visit Big Green Egg headquarters, including our retail showroom, the History of the EGG Museum and 
Culinary Center
!  3786 DeKalb Technology Parkway, Atlanta, GA 30340.
Look what i found, finally but may have screwed it up
Well, Thanks to a recommendation by Poppasam, I went to Restaurant Depot in Atlanta to pick up some Royal Oak lump. While there i was in awe to see almost anything you could think of to cook or cook with. They have a huge meat section and i was just standing there salivating and happened upon Beef hanging tenders which should be the same as a hanger steak that i have seen Max and some other people talking about. They were $1.70/lb. I picked up 2 4lbers to try. I have seen that Max marinades his in i think Balsamic vinegar and shallots for several hours. I didnt have time tonite so i just did a 30-45 min marinade with Lawrys steak and chop marinade. Egg was about 500 degrees so i threw them on in a hurry. Due to the difference in size from one end to the other of the muscle, the thermapen was at about 135-145. Pulled off and let rest for 10 minutes. When i sliced I noticed that the muscle fibers seemed to be much larger and definately was much more chewy than i expected. It was better if i pulled the muscle as if it were a pot roast. Anyway, i did this first hanger probably not taking enough time so i hope i have not ruined my impression of what others really seem to enjoy. Any feedback is more than welcome.

[p]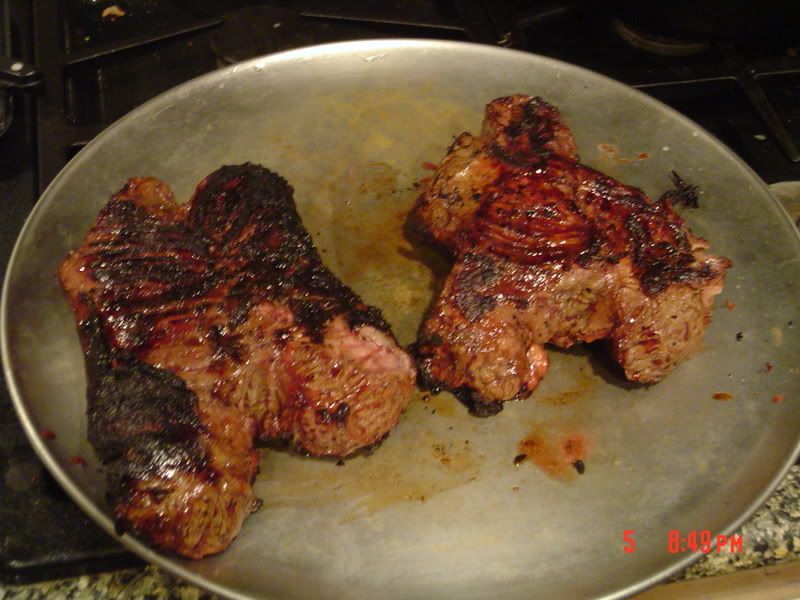 [p]