Welcome to the EGGhead Forum - a great place to visit and packed with tips and EGGspert advice! You can also join the conversation and get more information and amazing kamado recipes by following Big Green Egg at:
Facebook  |  Twitter  |  Instagram  |  Pinterest  |  Youtube  |  Vimeo
Share your photos by tagging us and using the hashtag #EGGhead4Life.
In Atlanta? Come visit Big Green Egg headquarters, including our retail showroom, the History of the EGG Museum and 
Culinary Center
!  3786 DeKalb Technology Parkway, Atlanta, GA 30340.
The Ups And Downs Of My Weekend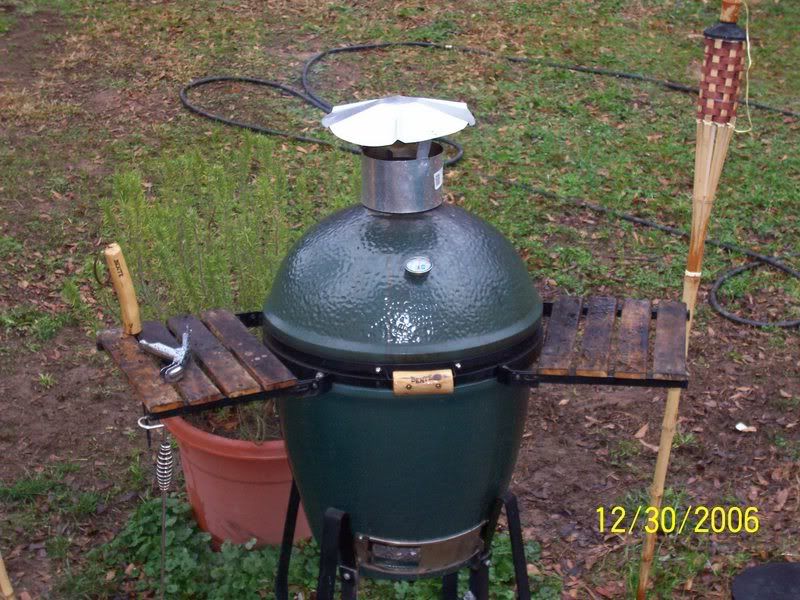 <p />
well it sure was a windy weekend here in upstate sc. i did ribs on sunday and decided to try something diffrent. i put the rain gear on the egg in the hopes of keeping the windy conditions out of the top of the egg. all in all i believed it worked (the photo is a older one i had taken enough pics and was told to stop)
Because i did fatties on friday night


my mother came in for the first time to my new house and she is diabetick (sp) i asked about grilling eggplant and got some good advice from a few and metalhead asked for pics so i got this i salted them and waited thirty minuets washed them off and put them in a ziplock bag with some salad dressing


i also fired up the small (just for fun)so i had to throw some asparagus on.


i also spatchedcooked a chicken (no pic) it turned out very dry let me tell you why.
1 i cleaned the daisey wheel before i fired up large so they move alot easier after you clean the crud (sorry no better turm to use) that caused me to forget to set my wheel back!
2 i let it get to 500 deg
3 now here is where it gets me i read my temp gauge right when it said 190 in the thigh. but when i went to cut it up all the juices in the thigh were not clear they were pink and needless to say my mother does NOT eat pink juicy chicken!!! so i threw it back on until it was dry as the sahara:(
but things did get better saturday i also started on sunday's ribs
with a layer of mustard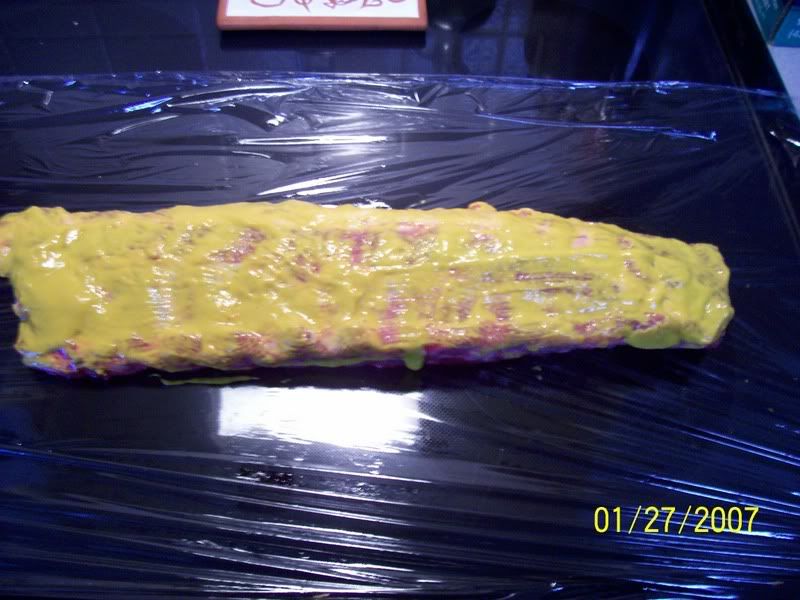 my first time using such a contraption to hold rub on my ribs but it did work REAL well


i wrapped them in plastic wrap and into the fridge overnight
next afternoong ready to go on egg with cherry wood


now is when i went a little diffrent with some consultation from Car Wash Mike(thanks by the way)he does not foil his and i never lived the idea of protecting ribs from the egg.
so onto the rib rack. after an hour squirt with apple juice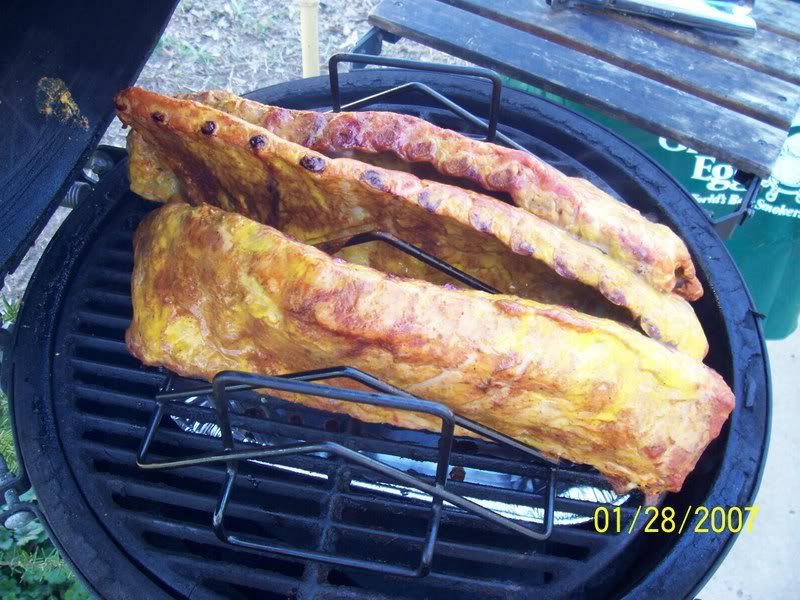 after another hour squirt with apple juice.


during that hour i decided when i squirt again i will pull them out of rib rack.


another hour and more apple juice


wait 45 min them comes the sauce


and i did this one for Rick's Tropical Delight he always takes those shots from counter level


so all in all a pretty good weekend except for the chicken
i also work two auto auction's on Woosday so i can never get the chance so here is my Woosday photo's
happy eggin
tb
happy eggin
TB
Anderson S.C.
"Life is too short to be diplomatic. A man's friends shouldn't mind what he does or says- and those who are not his friends, well, the hell with them. They don't count."

Tyrus Raymond Cobb