Let's start with a couple of firsts; The lump was new to me. @Little_Steven got some Maple Leaf lump (available only in Canada) for me last weekend and this is the first time I got a chance to burn some. Steve, if this is "bottom of the pallet" stuff, then maybe I should figure a way to get a pipeline of Maple Leaf flowing! I really like it so far. Another first is the maiden voyage of lump reducing ring from CGS. Check out how shiny it is.
More firsts later. Here's a couple of lasts: I have cooked on my Weber kettle for years. The only time I've cooked on it since I bought my eggs is when I was trying to use up some Kingsford I had stashed away. Today I burned the last of the Kingsford. With the Kingsford gone, it makes no sense to let the kettle rust from disuse. I used it today to cook some pig candy and to grill asparagus. Another first is this is the first use of the swing grid. I used it to create raised direct cooking on the kettle.
Today's mission is to test a dish to see if it's something I want to cook at the Owosso Grill Fest next Saturday. While I was at it, I cooked another dish I'm cooking next Saturday...pig candy. I didn't get the whole tray in the indirect shadow so some of the pieces turned out more crisp than I intended.
BREAK - It's fun watching other people work, isn't it? My daughter slaving away here.
Back to the food. Another first is today's entrée. We made Bacon Ranch Chicken Kabobs to see if it was something I want to cook next weekend. To duplicate the serving size needed for next Saturday, I cut some bamboo skewers in half and soaked them overnight. The bacon was cut in half as well. Boneless chicken breast was cut into 1 inch cubes and marinated in ranch dressing with some sriracha. The kabobs were assembled with Vadalia onion, bacon, chicken, loop the bacon around and stick it, another piece of chicken, loop the bacon around again and finish it off with another piece of onion. I dusted them with Tsunami Spin. Here they are on the grill. I started cooking them raised high on the AR, but I wasn't getting the char I thought a kabob should have. I finished them on the stock grid raised a bit on the Woo2.
Results, not as good as hoped for. The skewers were hard to work with and that made turning difficult. They were also time-consuming to create. I like the dish, but it's not something I want to be cooking next Saturday.
Another first is the use of asparagus clips. The asparagus was seasoned simply with EVOO and S&P.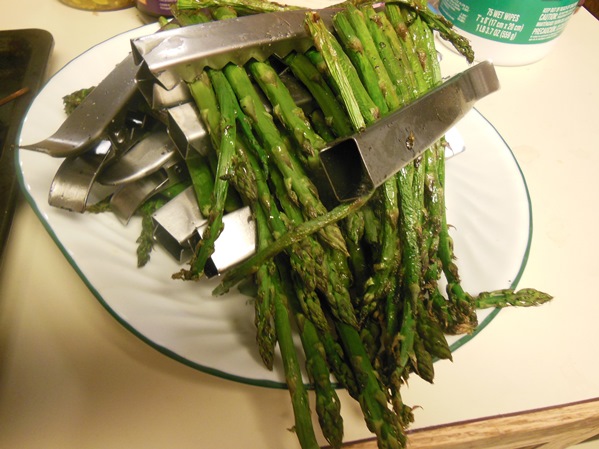 Plate shot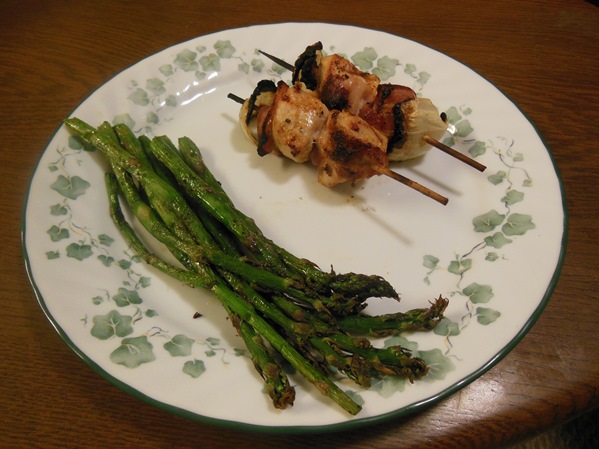 BONUS - Strawberry shortcake is below that Presto Whip somewhere. Some blueberries were added for fun.
Thanks for looking.