.
and Cooked: Are things slow here or am I just bored so decided to cook.
Brine, Poultry, Turkey, Breast, Richard Fl.
INGREDIENTS:
Brining Salt
2 Tbs Garlic Powder
1 Cup Indian River Seasoning Salt
1/2 Cup Turbindo Sugar
1/2 Cup Canadian Maple Syrup
1/2 Cup Soy Sauce
1 Tbs Indian River Rainbow Pepper
2 Tbs Indian River Spice Blend, Like Italian Seasonings
Basting Liquid:
1 Cup Canadian Maple Syrup
1 Cup Italian Salad Dressing
PROCEDURE:
1. Placed brining ingredients all in a small pot and brought to a light boil to dissolve the sugar. Let Cool.
2. Placed 9# bone-in turkey breast in styrofoam cooler large enough to let the breast be covered with liquid and ice to about 3-4 inches over the breast. Placed the breast in cooler, covered with water and then poured the cooled brine in. Covered with about 5#'s ice and kept chilled for 48 hours. Adding ice as necessary to keep cool. Had previously punctured the breast with numerous knife jabs to allow the brine to seep in.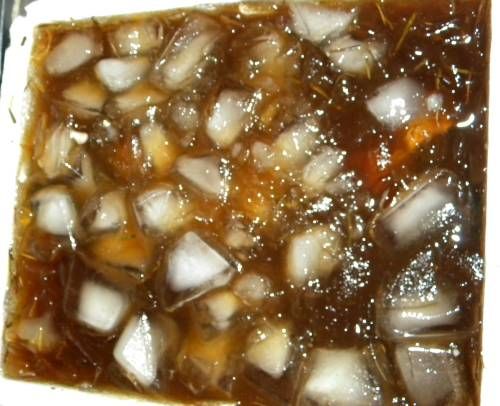 3. Removed the breast after 48 hours and soaked in plain water for 3 hours. Removed from water and patted dry. Placed uncovered in refrigerator overnight. Removed next morning, (breast temperature 45F), Placed on rotisserie.
4. Placed breast in large BGE with rotisserie motor and set it up indirect with a water drip pan , 2"'s water, sitting on 1/2" copper "T"'s 350F, apple wood for smoke. Basted every 20-30 minutes.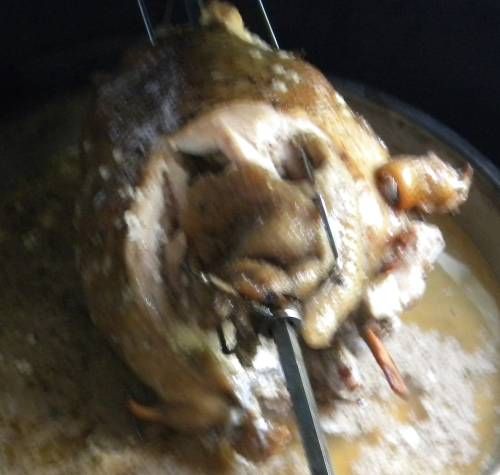 5. After 1 hour, internal temperature @ 100F.
6. After 1 hour, 30 minutes, internal temperature @ 130F.
7. After 2 hours, internal temp 160. Pulled.
Recipe Type: Brine
Source
Source: BGE Forum, Richard Fl, 2013/05/23