Pork, Butt, Char Sui, Wings, Oriental, #2, Richard Fl.
This project was the fault of Winn Dixie for having Pork Butts on sale this past week for $.99/lb. Got 6 butts. Had 2 cut into 2" steaks for Char Sui or Chili.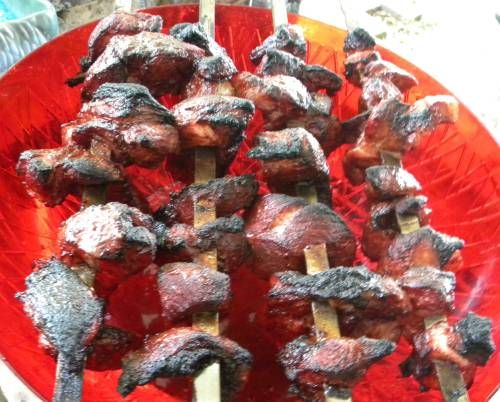 INGREDIENTS:
4 Lbs Pork Butt, Boneless
SAUCE
3/4 Cup Chinese Wine or White Sherry
1/2 Cup Brown Sugar, Turbindo
1/3 Cup Soy Sauce
3/4 Ccup Ketchup
1 Tbs Salt
4-6 Drops Red Food Coloring, Careful it is messy.
1/3 Cup Fish Sauce
1/3 Cup Double Black Soy Sauce
2 Tbs Oyster sauce
2 Tbs Hoisin sauce
1/4 Cup Black pepper, Restaurant grind
2 Tbs Five Spice Powder
1 Tbs Lemongrass, Dried
1 Tbs Chili Oil
2 Tbs Red Palm Oil, From Ghana, Sometimes found in Brazalian grocery stores
1 Tbs Sesame Oil
1 Tbs Ginger Oil
1 2.7 Ozs Pkg Lee Brand Chinese BBQ Char Sui Seasoning
1/4 Cup Ginger Juice from jar of Japanese Giri for sushi
PROCEDURE:
1. Cut butt into 2-3 inch long pieces about 1 inch cross-section.
2. Marinated butts in sauce overnight in refrigerator.
3. Placed on 1/2" wide, 24" long Shish Kabab Skewers
4. Set up large BGE for indirect plate setter, copper elbows and drip pan with an inch of water. Used apricot chips for smoke. Brought the temperature up to 425°F. When it was reached, shut down the damper on the botton and the top to reach 375°F-400°F. Did not baste anymore.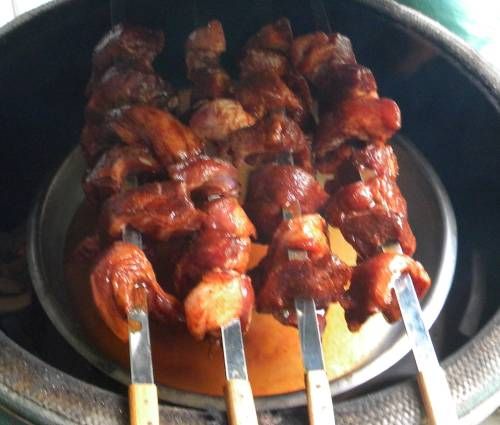 5. Left alone for a total cooking time of 25 minutes.
6. Tried to use a Thermapen, however the meat was so thin that the meat was at 210°F in about 15 minutes and I knew this was Wacky!.
7. Butts are ready.
8. Had a bunch of chicken wings so they went on the same ride. They marinated for 45 minutes.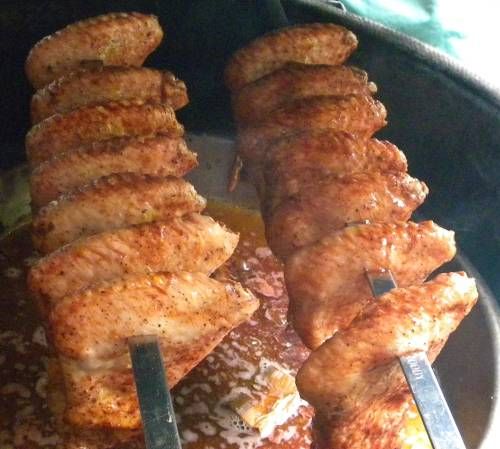 9. Wings done!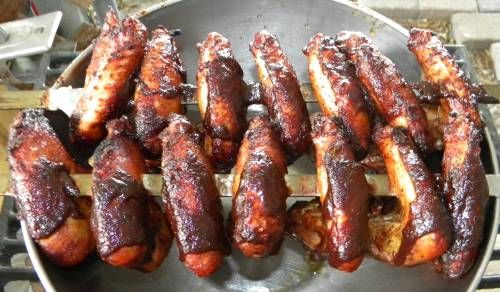 10. Chow Time!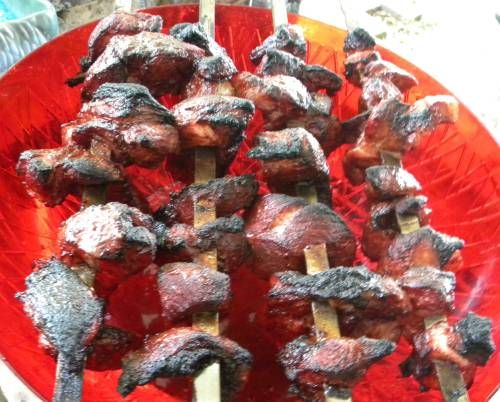 Recipe Type: Appetizer, Asian, Barbecue, Meat, Poultry
Source
Source: BGE Forum, Richard Fl, 2013/05/11