We're feeling pretty super, how about you? The big game is fast approaching, and while we love football, we love an excuse to invite people over and cook even more! You too can cook like a champion with recipes from
Dr. BBQ's NFL Gameday Cookbook
: Grilled Tuna Sandwiches from Seattle and Baked Brie from New England. Who's going to win? You'll have to cook both to find out.
The 17th Annual EGGtoberfest was amazing - here are the highlights 
Click Here
Pork Tenderloins On The Small for Dinner!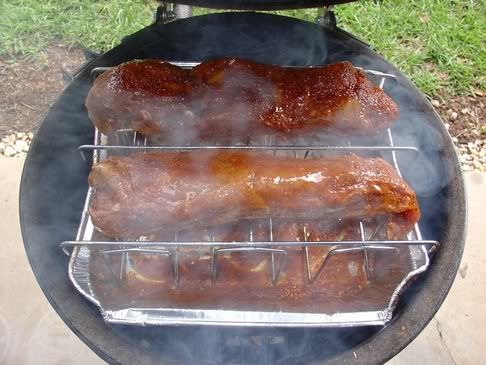 <p />
Deb saw a 2 for 1 special on little pork tenderloins at the neighborhood Bi-Lo. Guess what's for dinner tonight? Here's a pic of one of them split into two. Both are injected with a pineapple/teriaki marinade. The back one is dusted in Jamaican Firewalk (my favorite) and the front one is done with Tsunami Spin. We can't wait![p]Jimbo
Spartanburg, SC - 1 large, 1 small AND a brand new mini!