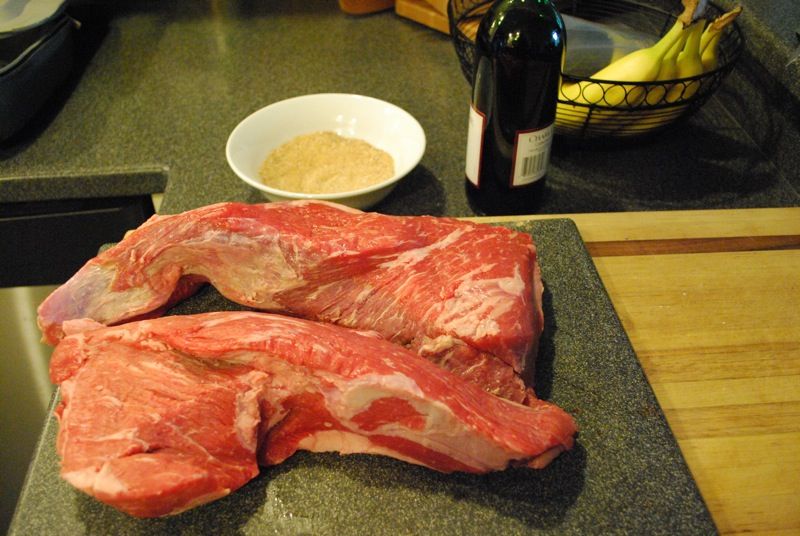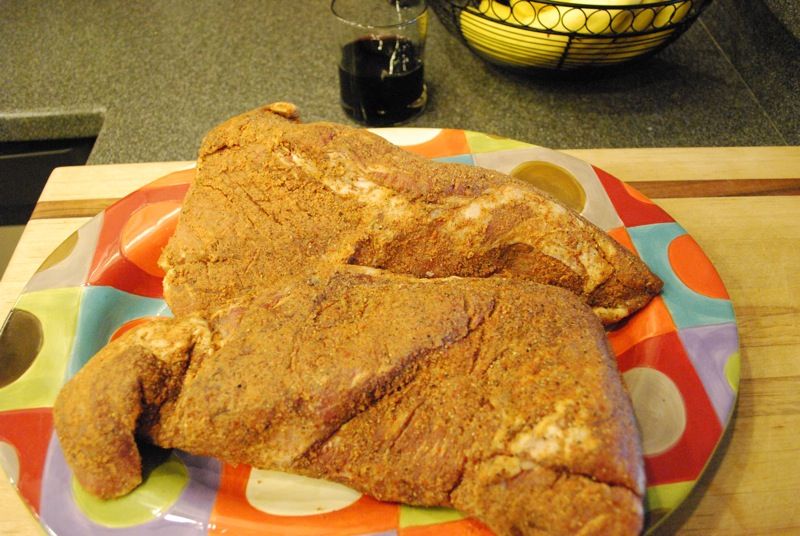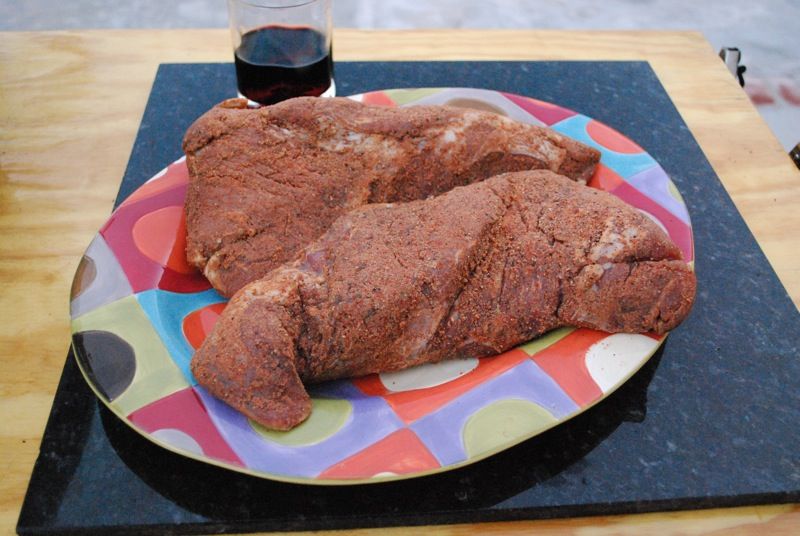 Rubbed Saturday afternoon, put in to Fridge over night took them out 3-hrs. before the cook on a raised grid
@360*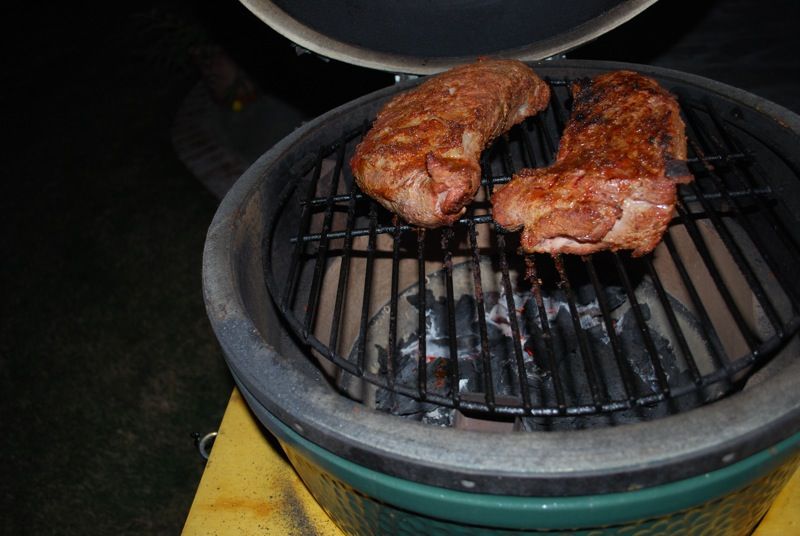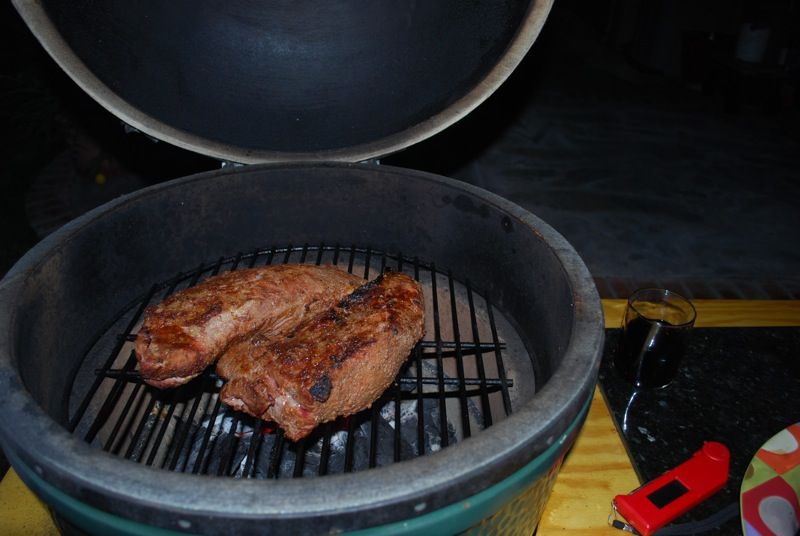 Cook it
@350*
until a internal temp. of 120* then lowered it closer to the hot coals for a post sear @ 130* internal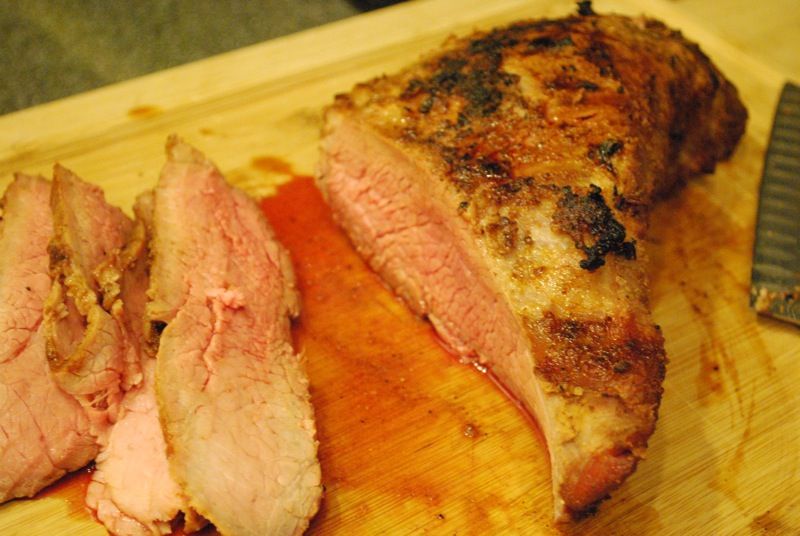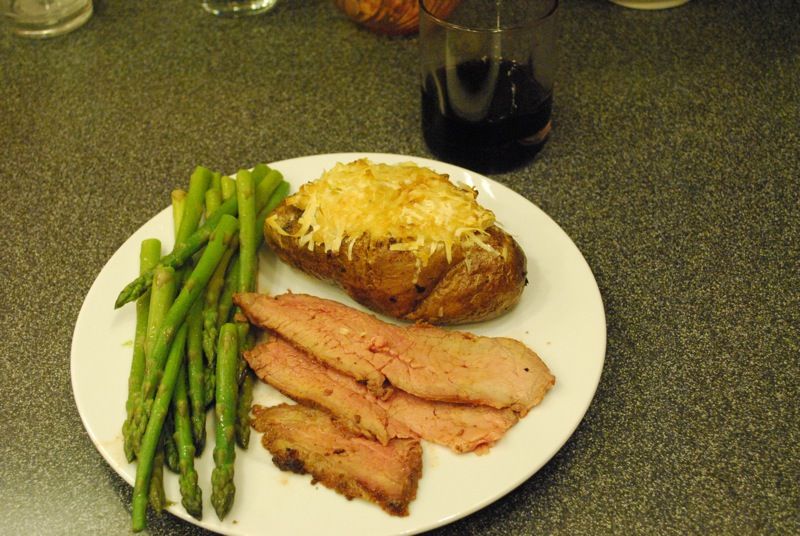 Served with Parmesan and Bacon Twice Bake Potatoes and asparagus.
YUMMY
Thanks for looking
Ross
Recipe's:
EGGFEST 2006-2007-2008-2009-2010-2011
Santa Maria Style Tri-tip
Richard Miller aka Morro Bay Rich
Morro Bay, CA

2 (3 pound) tri-tip roasts
Basting Sauce, recipe follows
Seasoning Salt Mixture: recipe follows
Seasoning Salt Mixture:
2 teaspoons freshly ground black pepper
2 teaspoons white pepper
2 teaspoons cayenne pepper
1 teaspoon onion powder
4 tablespoons granulated garlic
2 tablespoons salt
Mix together all ingredients in a small bowl
Basting Sauce:
½ cup red wine vinegar
½ cup garlic-infused vegetable oil
Whisk together vinegar and oil in a small bowl.
Coat both sides of the tri-tip roasts with the seasoning mixture, rubbing it in as you would a dry rub. Let the seasoned tri-tip rest for at least 30 minutes at room temperature. Sear each side of the tri-tip at 600 to 700 degrees for 3 to 4 minutes each. Remove seared tri-tip from the BGE, cover it with foil and let it rest while bringing the BGE temperature down to 350 to 400 degrees. During this cool down period I usually toss in a couple of oak chunks. Put tri-tip back in the BGE and cook to an internal temperature of 126 degrees for medium rare, basting with the sauce every 5 to 10 minutes. Remove tri-tip from the BGE, cover it with foil and let it rest 15 minutes. Cut into ½" slices against the grain.
This recipe is from Foodnetwork.com's website. It is titled "Santa Maria Style BBQ" Oakwood Grilled Tri-tip. It is as close to authentic Santa Maria tri-tip as I have been able to find.
I usually cook this on a Large BGE and find it take 1 hour and 10 minutes from the time I strike the match to taking the tri-tip out of the BGE.
Parmesan and Bacon Twice Baked Potatoes

INGREDIENTS
5 medium russet potatoes, washed 2 Tablespoons butter 1/4 cup mascarpone cheese 1/4 cup sour cream
2 Tablespoons milk 1/2 teaspoon salt 1/2 cup parmesan cheese 8 pieced bacon (or 1/4 cup bacon bits)
INSTRUCTIONS 1. Pre-heat your oven to 400°.
2. With a fork prick each potato about 5 times, place on a cookie sheet. (If you have a sil-pat, lay that on your cookie sheet and bake the potatoes on it).
3. Place the potatoes in your hot oven and bake for about 40-60 minutes or until easily pierced with a fork.
4. Remove from the oven and slice each potato in half lengthwise.
5. In a mixing bowl or stand mixer, add butter, mascarpone, sour cream, milk and salt.
6. Once the potatoes are cool enough to handle, but still warm, scoop out the insides leaving the skin in tact, and place the insides in the mixing bowl with the other ingredients, reserving the skin.
7. Using a hand mixer or stand mixer with a whisk attachment, whisk together on high until well incorporated and most of the lumps are gone, about 1 minute. Turn off the mixer and stir in 1/4 cup of the parmesan cheese and all of the bacon.
8. With a large spoon scoop about 1/3 of a cup the whipped potatoes into each one of the skins. Sprinkle remaining parmesan cheese on top and bake at 375° for 7-10 minutes or until the cheese is melted and the potato is heated through.
9. If you want to make ahead and freeze: Follow the recipe, after the stuffed potatoes are baked, place in the fridge to cool. Once cool, place the potatoes in a freezer safe container or zip lock bag. Store in the freezer for up to 2 months.
10. To serve straight from the freezer: Preheat your oven to 400°. Place the potatoes in.