Been adding lots of miles to the company car since May. Been mulling this cook over in my mind to pass the miles away and tonight got home early enough to cook it. The inspiration came from a Chicken fricasseed recipe in Cooks Illustrated
Ingredients
1+ pound pork tenderloin. Rubbed with salt, pepper, Cluck and Squeal, Chipotle powder, garlic powder and lemon pepper. Let stand RT for 30 minutes
1 tablespoon unsalted butter
1 tablespoon olive oil
1 pound white mushrooms, trimmed and cut (orginal calls for creminis) into slices
1 onion, chopped very fine
3 gloves of garlic
1⁄4 cup dry white wine
1 tablespoon all-purpose flour 1 garlic clove, minced
1 C warmed water (didn't have any chicken broth)
1⁄3C sour cream
1 egg yolk
1⁄2 teaspoon freshly grated nutmeg (or to your taste)
2 teaspoons juice from 1 lemon
2 teaspoons minced fresh tarragon or parsley
1 mild Hatch, roasted, peeled, seeds removed and finely minced (because the Hatch chile have arrived)
2 big glugs if Messina Hoff un-oaked Chardonnay (looked like about 3/4C)
2 tablepoons of good sherry
Directions
Place rubbed tenderloin on egg, brown evenly on all sides then cook direct at 375 until IT reaches 125.
To a skillet add mushrooms, onion, and cook, stirring occasionally, until liquid from the mushrooms and onions have evaporated and mushrooms are browned. Add garlic and hatch chile cook until you smell the garlic. Add sherry let reduce. Add flour and cook another minute. Add wine and water (chicken stock) and bring to a boil. Reduce heat to simmer and reduce by almost half.
Add one egg yolk to the sour cream and mix. Slowly add to this to the mushroom sauce, stirring constantly to incorporate. Add fresh grated nutmeg, lemon juice and herbs.
Transfer tenderloin to clean cutting board and cut into medallions. Place pork in to a shallow dish, pour sauce over pork.
To the egg, add small amount of apple wood chip. Place pork dish in egg for ten minutes or until IT reaches 140.
The pictures:
chromed getting happy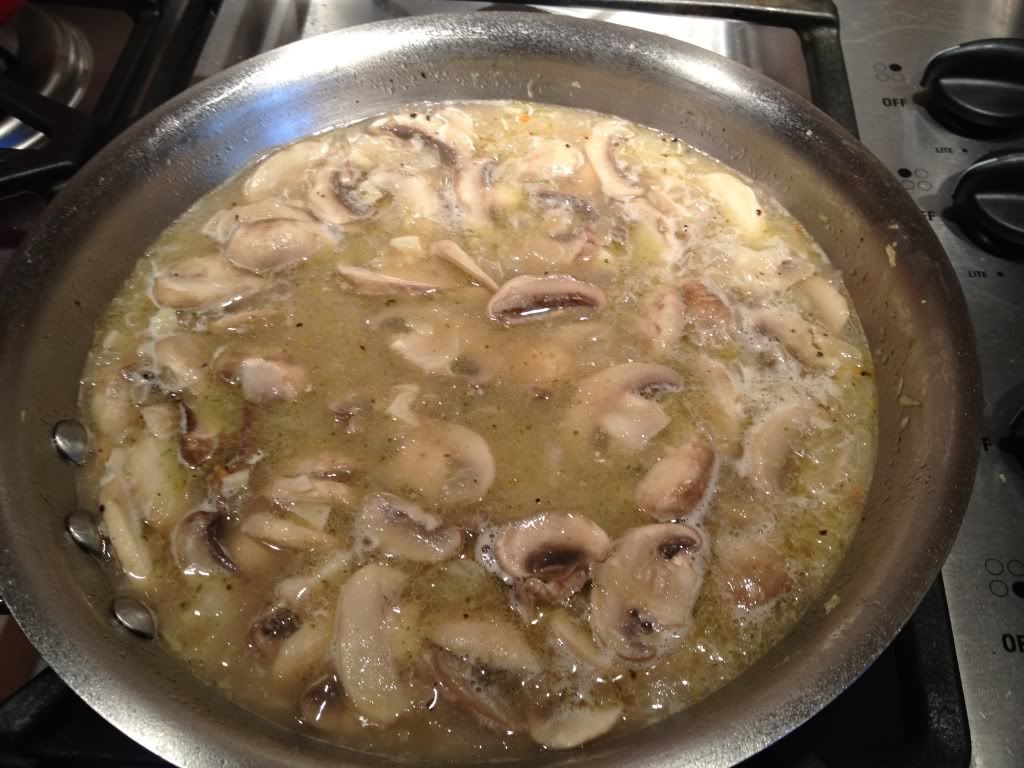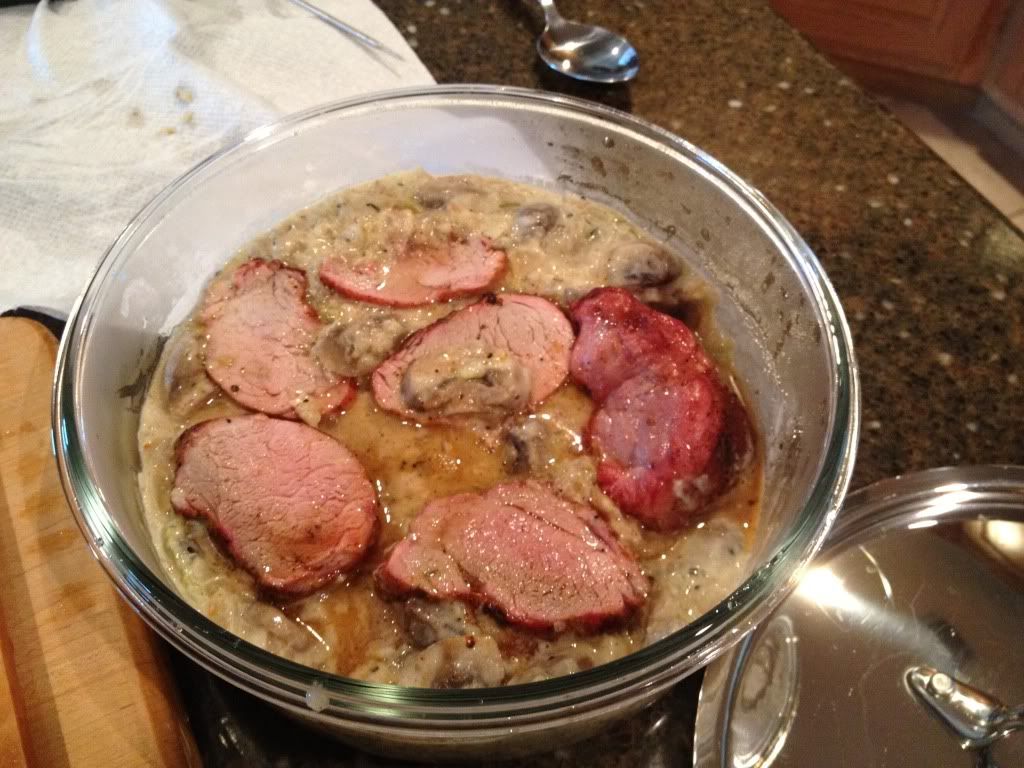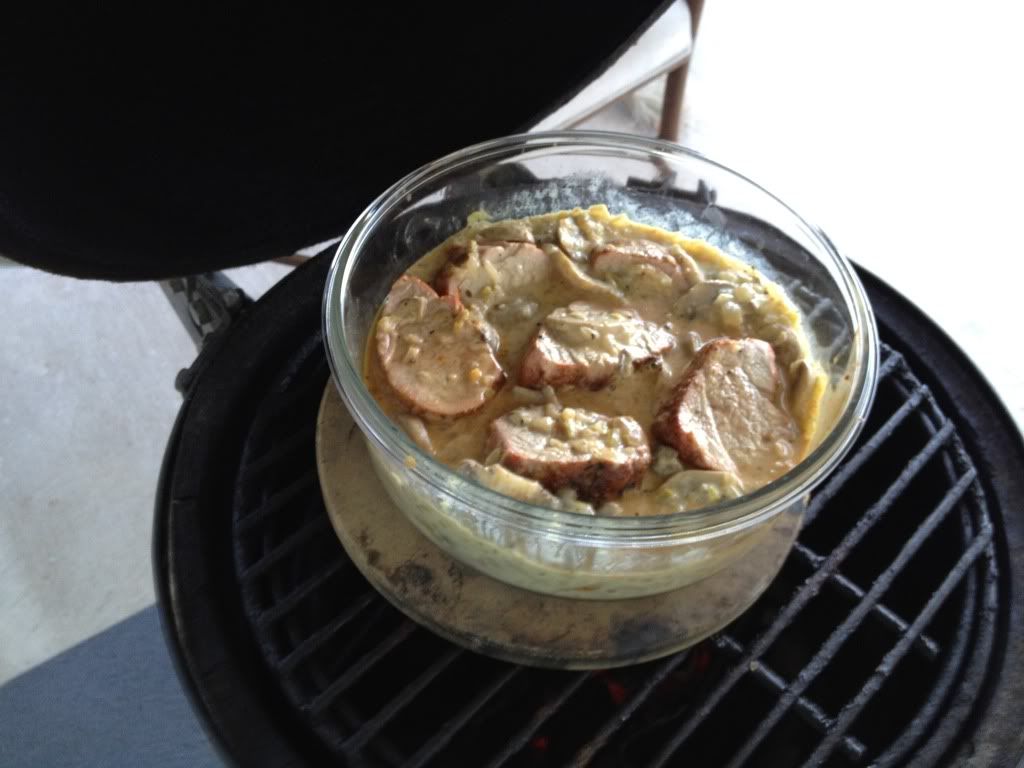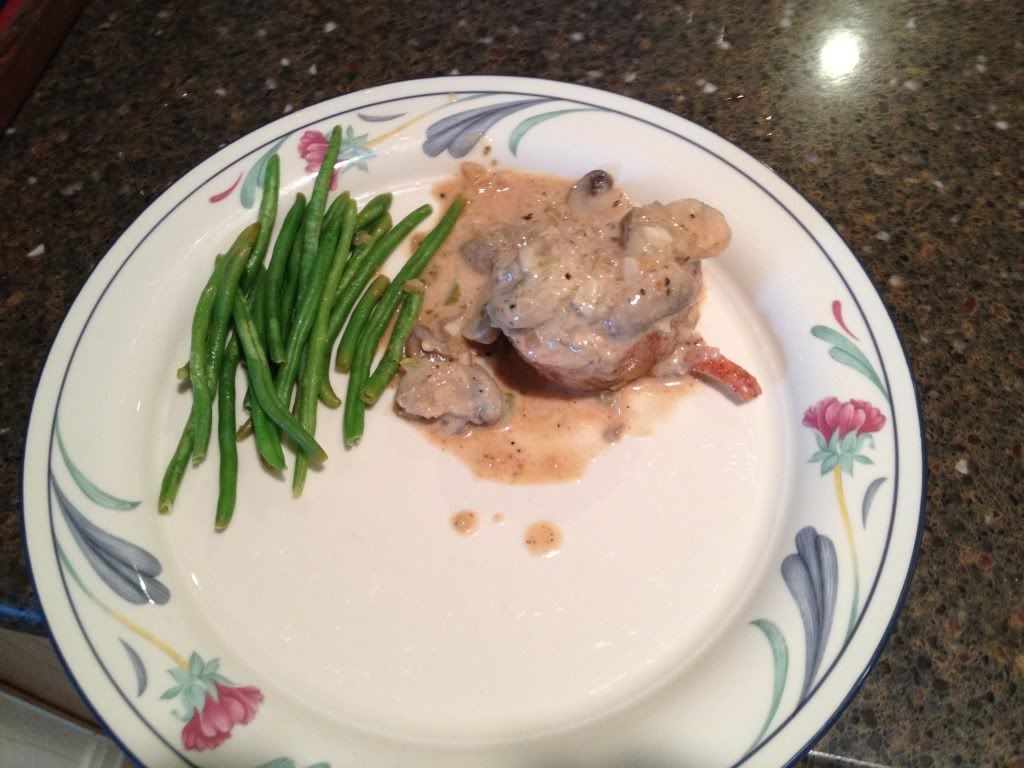 Very tasty It is a keepeI