After a week curing, the fenalaar (lamb ham) was ready to be smoked.
fresh from the cure, rinsed and trimmed of dangly bits
inner surfaces sprinkled with herbs de provence (with lavendar) and some fresh mint flowers (fragrant)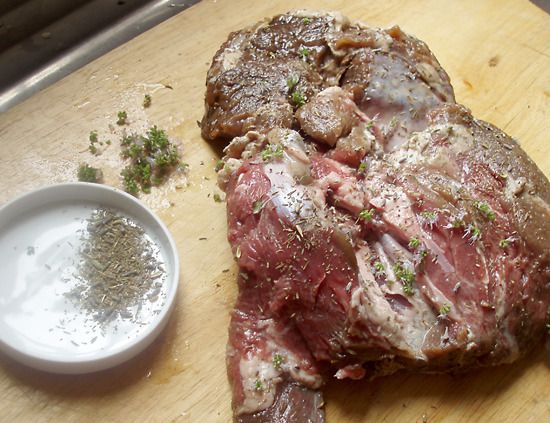 rolled and tied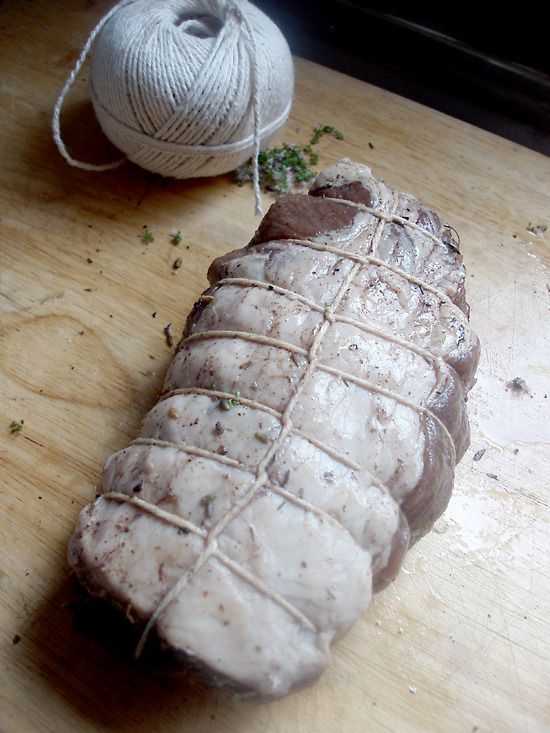 burnt offerings to the food preservation gods: grapevine (front) and lilac stem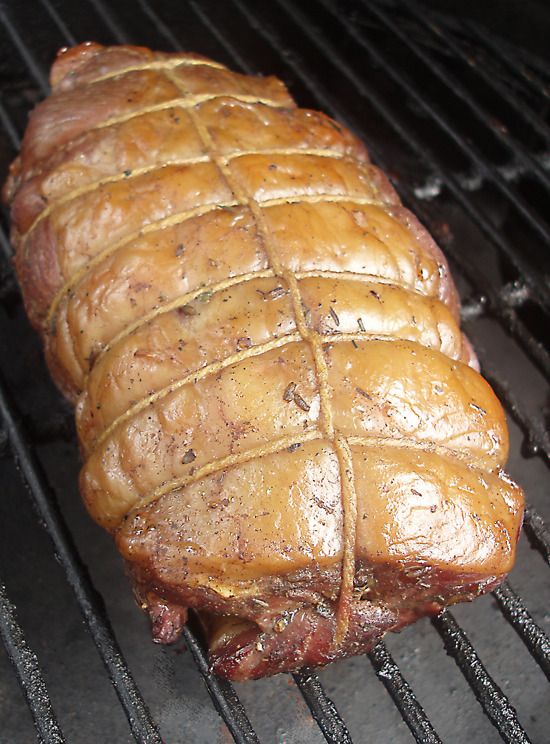 sliced...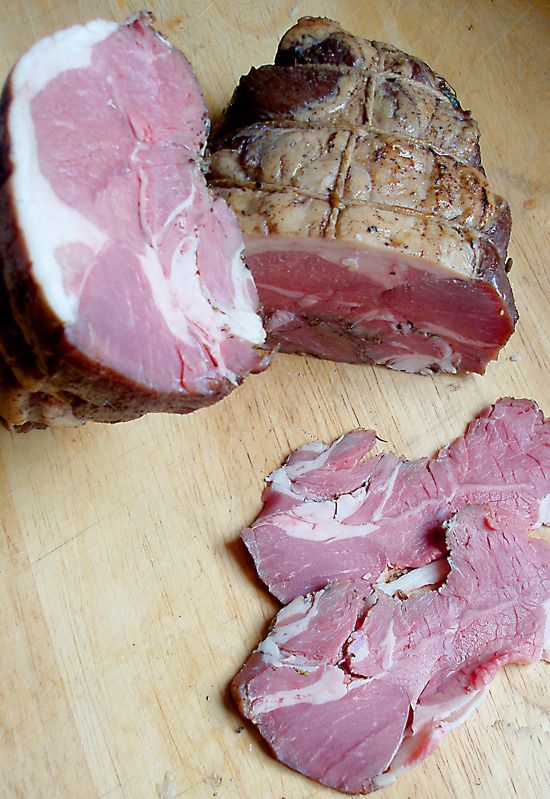 i halved it front to back, vacuum packed (so it wouldn't dry out) and tossed into the fridge. Part of a appetizer we are bringing to a couple cookouts this weekend
also unwrapped the prosciutto that I started back in may last year. it hung in june and had been up for about 400 days.
started at 18 pounds, dried to maybe 13
unwrapped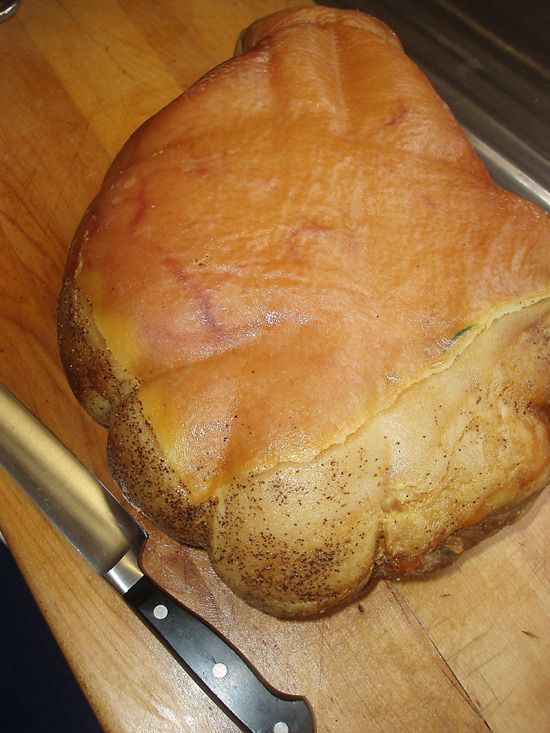 that front edge is the fat hem, peppered.
here it is, sliced
it was really great, and i won't lie, i was relieved.
couple things really amazed me (not hard), and there were a couple things i learned. first, seems obviousnow, but i never made the connection (skip down to the brats if this looks long. i actually SHORTENED this part, believe it or not)
we talk of the smell of 'old' meat (aged beef is where it usually comes up, but i also mean supermarket meat that is in the fridge a while). people always ant to know what the smell is like. i could never capture it. i'd say "sweet, slightly metallic.." but that never captured it.
i noticed it in my longest aged beef especially, say 60-100 days.
last easter's ham had the same smell. it was aged at room temp for about 9 or 10 months.
what's my frigging point? well, unwrapping this prosciutto i smelled the same smell. i took a deep sniff after slicing. you know what the smell is, the one you smell in aged beef? it's friggin prosciutto. yep. prosciutto is probably the only aged meat we
all
have had at one time or another. we all know the taste, smell. so for future reference, think 'prosciutto' if you smell something in the dry aged beef you are making. that smell is similar across the few aged meats i have done. it's of course more pronounced the longer you age, but a tinge of it WILL be apparent. next time you have prosciutto, take a deep sniff.
i have to tell you that it's another reason i'm convinced that we learn our tastes/smells rather than inherit them. because i always was slightly disconcerted by the smell. is it right? what causes it? to find that i have been familiar with it all along under another name made the lightbulb go off over my head.
the small slice is going to be sliced into as-thin-as-i-can slices for the cookout as well.
sorry for the length of that...
now, brats.
this is also the ruhlman/polcyn ("Charcuterie') recipe. i made ten pounds. yikes. should have done 5. 10 is a bit much for one person in my kitchen with my equipment.
the raws. two boneless pork butts and about 2 pounds fat back (skin on here, to be removed)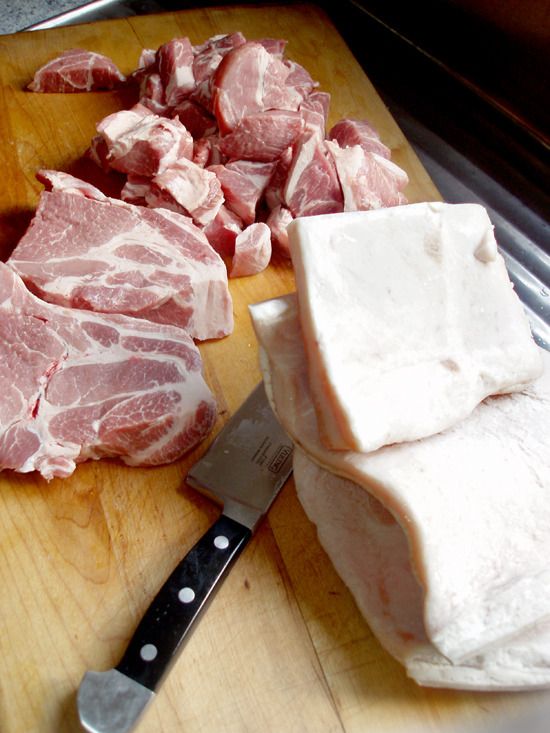 back fat (rear) is free of skin and cubed. a little ground lamb (store bought pre-ground), and my two small boneless pork butts diced and ready to be chilled for grinding
aaaaand squirted out my 5-pound dakotah stuffer. one man operation,. goes faster than you can handle if you want to, but the rate is adjustable to a crawl if need be
lastly.. a miscellaneous shot. mussel shells, post-dinner.
one pile is the wife's, the other is mine. gee, guess which?
why? well, i ate about four times what she did, and that platter would be spilling over with shells. saves space, and looks cool (to a guy like me that doesn't get out much, i mean). especially helps at a restaurant, since they never give you a good enough bowl to hold all the shells. and it always charms the waitress too. it's also frankly the mark of a frustrated designer.