Doing my first BGE brisket today. Couldn't find a packer so doing a CAB Flat. Just under 6 pounds. I rubbed this morning with a modified version of a rub I found on the Amazing Ribs site. Consists of lots of black pepper, salt, sugar, and variety of spices and powders. Here is the flat rubbed and ready to sit for a while.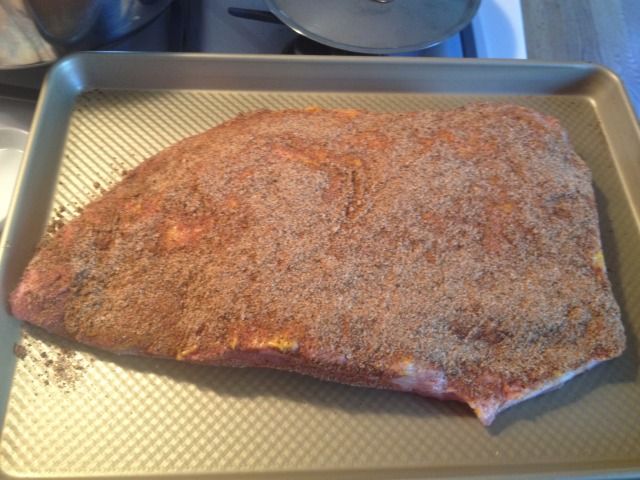 I let it sit all morning and then about noon, got my fire up and running. Cooking at 275 grate temp using a modified "Travis Method" similar to what hapster did on a recent cook. For liquid, I am using a combination of beef broth, beer, and a red onion. I am cooking on a rack above the liquid until it hits about 165 and then will put in the liquid until I can insert and remove a probe in the meat without any resistance. Here is the meat when it first went on the Egg.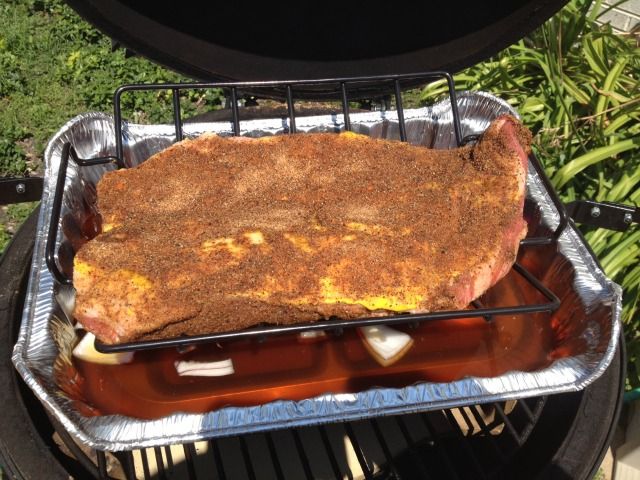 Its been on for about two hours and has already hit 130. In addition, this is the first time I have used my new DigiQ DX2 and I love it. Set it for 275 and it has been rock solid. This will give me great comfort when I do overnight cooks.
As always, I would never be able to do this without everyone's help. Contrary to recent opinions, this is a great site to learn and have fun. Thanks again.
More pics to follow.
Buckeye Bob
Clarendon Hills, IL