Picked up some nice boneless chicken breasts over the weekend to cook on Monday. I'm not a big fan of white meat chicken, nor is my oldest son or my daughter. Middle son and wife like it. So for an experiment I decided to do make some bacon wrapped chicken. Here's how things unfolded last night in the kitchen while I'm getting dinner ready.
middle son: Steve (friend of middle son) and I are going out to eat.
me: Why didn't you say something before I started making dinner?
middle son: Dunno. what's for dinner?
me: chicken. Steve can stay and join us.
middle son: Pass. we're going to walk into town. see ya later.
Steve: is that bacon wrapped chicken that you're making?
me: yes.
Steve: That's a game changer. we should stay for dinner.
middle son: really?
Steve: definitely!
So there you have it when dealing with teenage rebellion. Bacon wrapped chicken > shame of eating with your parents.
They were pretty good. Bacon did not overpower the chicken. Indirect at 350* for about a half hour with some apple chunks. Used a thermopen to verify 160* in the chicken. Also made some of the breasts with just pepper and garlic, and a nice hot Italian sausage to try since it was from a new store.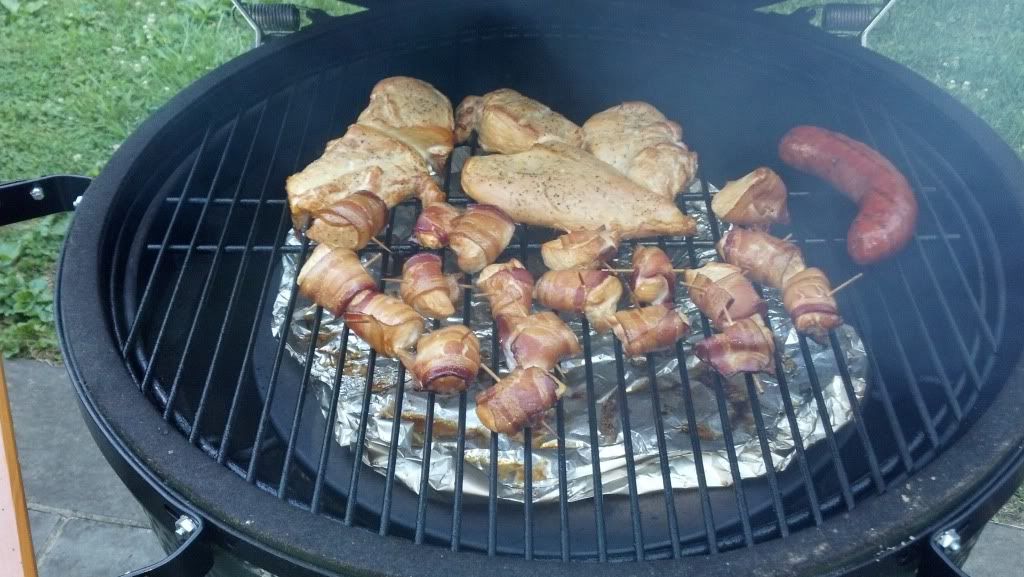 Cooking on an XL and Medium in Bethesda, MD.