We're so close to Thanksgiving that we can taste it and we're ready to help you prepare the most delicious Thanksgiving feast you've ever cooked! Check out our
Turkey Cheat Sheet
for turkey tips, our
Thanksgiving page
for turkey recipes, and our
Holiday Entertaining Publication
for all other Thanksgiving needs to help you make this the best Thanksgiving yet! PS. Don't forget about
breakfast
Thanksgiving morning either!

If you missed the 17th Annual EGGtoberfest here are the highlights Click Here
JimboBQ's Well Equipped Campsite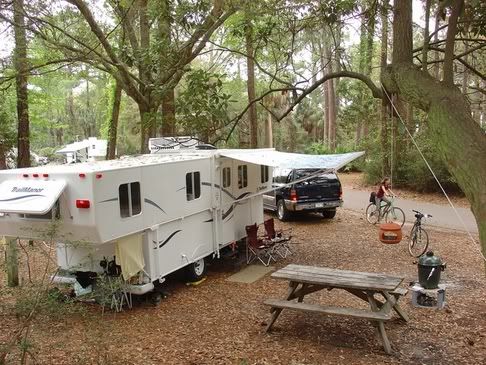 <p />
Had a great camping trip at Hunting Island State Park, near Beaufort, SC. Notice the Egg in the lower right corner of the photo. One night I got the small up to about 750 degrees and did a couple of Cow Lick Ribeyes. Ummm Gooood! The next night I did a Boston Butt for 18 hours with my BBQ Guru. I got lots of questions in the campground about that green space ship looking thingie! One fellow camper said he'd seen one of them in his neighborhood. I gave him some of the pulled pork I did and he told me when he got home he was going out to buy himself a BGE! I only regret I didn't take any of my Lawn Ranger tools with me. Those steaks were no fun flipping with a little spatula! At least my handle was from the Lawn Ranger. I wonder how many other Eggers are campers out there? I remember Marine Cook was an avid Egger and camper but I never see him here on the forum anymore.....[p]Jimbo[p]
Spartanburg, SC - 1 large, 1 small AND a brand new mini!