Morning All:
Kathy has had a leg of lamb in the freezer for a while now and I finally got around to making a meal of it :laugh: . Yesterday I trimmed it up, removing part of the bone and preparing a marinade that included marjoram, thyme, caraway seed, parsley, onion, garlic, EVOO, lemon juice and bacon (yes, bacon)...you mix all the ingredients except the bacon, then cut the bacon into 1" squares. The bacon gets happy in the marinade for about an hour, then you cut small pockets in the lamb to stuff the bacon pieces. The rest of the marinade is poured over the lamb to get happy overnight. I roasted the lamb indirect at about 325 over a pan with small red potatoes...on the tators was EVOO, salt, pepper, DP Shaking the Tree and a few sprigs of fresh rosemary...here it is just put on the Egg...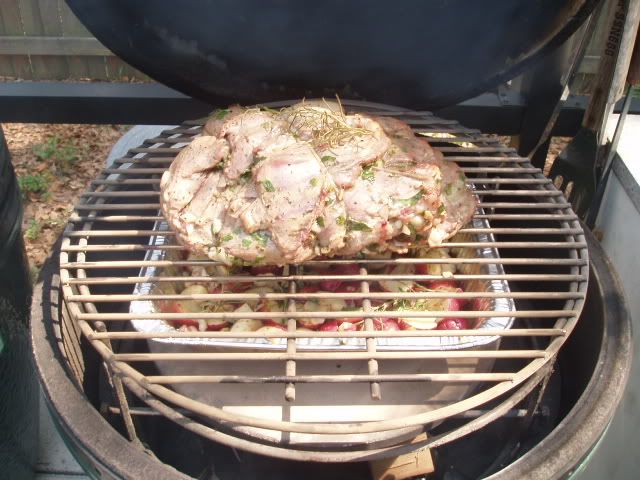 Sorry about the "bright" pic...didn't realize how much the sun was shining, plus this is the old camera (more on that later). Roasted a total of about 2 hours, 15 minutes...the internal (143 to 145 most places) was higher than I planned, but still very good...just before taking off the Egg...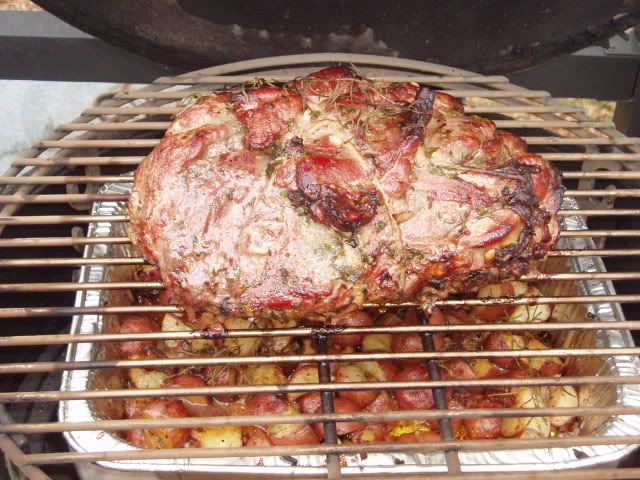 The tators were FANTASTIC...
and the lamb wasn't too bad either...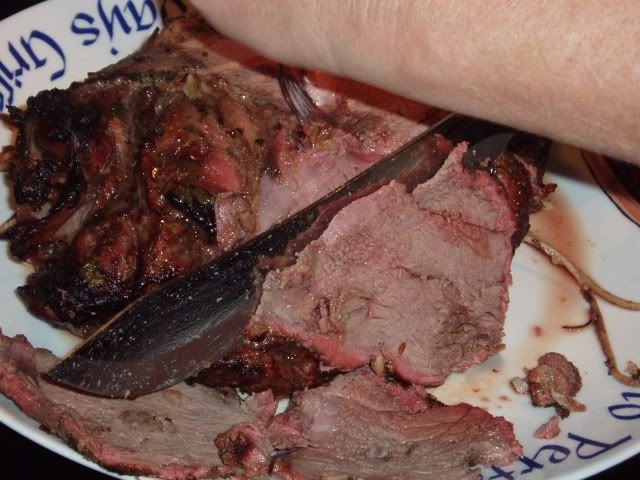 you can see the small bacon pieces in the meat...at little past medium-rare, but still GOOD...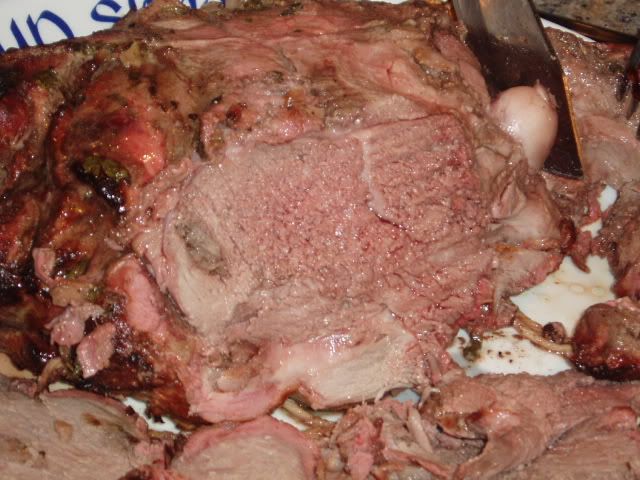 Kathy also made a mint sauce for the lamb that was DELISH! The recipe called for 0.5 cup water, 1.5 tablespoon sugar heated until sugar dissolved. Remove from heat, stir in 0.33 cup chopped fresh mint and 0.5 cup cider vinegar. Set aside for 30 minutes, strain, cover & chill then serve with lamb slices...made one change though...instead of water used 0.5 cup sweet vermouth...nice difference.
Now for the reason I'm using the old camera...Memorial Day weekend we spent part of the time in Orlando with two of the grandkids (while our son & D-I-L were at a conference there)...well we were at the pool with boys...here with GrandDad on the float...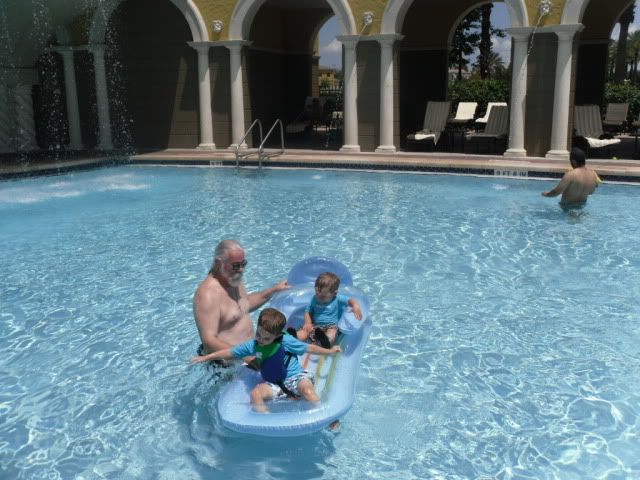 a few minutes later I'm holding the little one (Owen)and the older brother (Wesley) is "swimming" beside me when Wesley asks Grandma to pull the float out of the pool...yes, Grandma leaned over too far and fell in (in her clothes since she wasn't planning on swimming yet) and with the newer camera in her pocket...the camera didn't survive (though the card with the pictures did)...right after she fell in Wesley said "Grandma that was AWSOME". That's my story and I'm sticking to it!