Hi All,
I had a couple chickens from Sam's that I had picked up for 70¢ a pound and decided to go old school and do a herb butter for them.
For the herb butter I used:
3 Sticks of Butter softened
4 T Herbs de Provence
2 T Granulated Garlic
1 T Sea Salt
1 t Black Pepper
The Herbs de Provence is homemade and is:
4 T Thyme
3 T Marjoram
1 T Oregano
1 T Basil
1 t Rosemary ground
1 t Sage ground
1.5 t Anise Seed ground
The Anise Seed is optional and not traditional.
I chopped up a couple large sweet onions and sliced a couple lemons and used them to stuff the birds. I then rubbed plenty of herb butter under the skin and tied everything up. I have a medium egg so I tied the drum sticks tight to the body for now. Half way through I untied them and the birds fit my egg much better. In the end they were done the same time as the breast. I had expected the herbs to run down the sides of the chicken with the butter so I had used plenty. As it turned out the herbs stayed right where they were applied.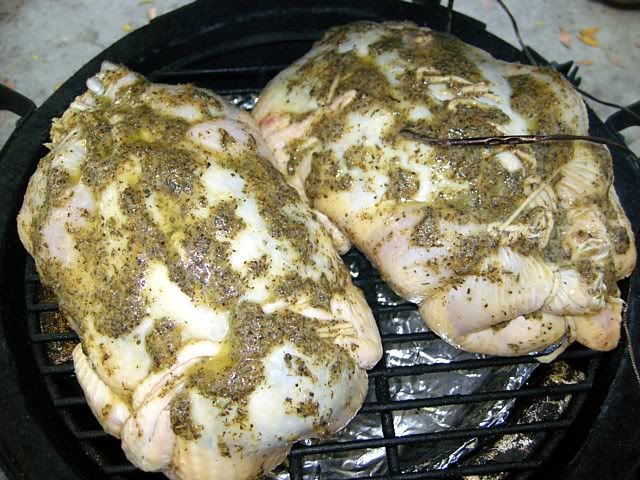 The egg was set up with a raised grate, indirect and DigiQ dialed in to 340º pit temperature and 165º food temperature. I was guessing about 2 hours and I was right on.
These are the most tender and juiciest chickens I have ever had! The flavors are great. The leg and wing sections needed almost no carving and almost fell off in my hand.
Have a great Memorial Day All,
Blair