Welcome to the EGGhead Forum - a great place to visit and packed with tips and EGGspert advice! You can also join the conversation and get more information and amazing kamado recipes by following Big Green Egg at:
Facebook  |  Twitter  |  Instagram  |  Pinterest  |  Youtube  |  Vimeo
Share your photos by tagging us and using the hashtag #EGGhead4Life.
In Atlanta? Come visit Big Green Egg headquarters, including our retail showroom, the History of the EGG Museum and 
Culinary Center
!  3786 DeKalb Technology Parkway, Atlanta, GA 30340.
More ribs
Morning All:[p]Looks like a lot of people did ribs this weekend. I hadn't done any in quite a while so I decided to go with 6 racks of baby backs instead of the usual 3 (especially since my 26-year old son and his friend said they might be over on Sunday evening). As you can see I filled my medium. [p]
[p]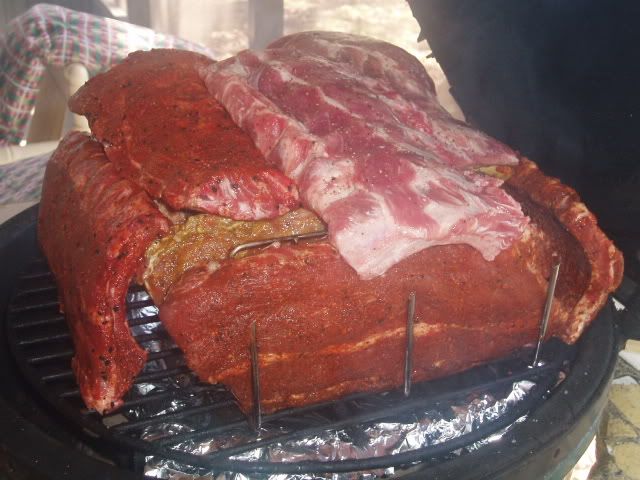 [p]The rib rack holds seven half slabs with the rest piled on. I have to cut each rack in half to get all to fit, but it worked out just fine (tight, but fine). Each rack is covered with a different spice. I don't remember all that were used, but I do know there was basic Salt/Pepper (the ones on top), DP RedEye, KenStones Witchy Red (in front, top pic), KS Gilded Splinters, KS Wicked Grin & I think the other was DP CowLick.[p]This is after about 90 minutes just before I flipped/rearranged everything.[p]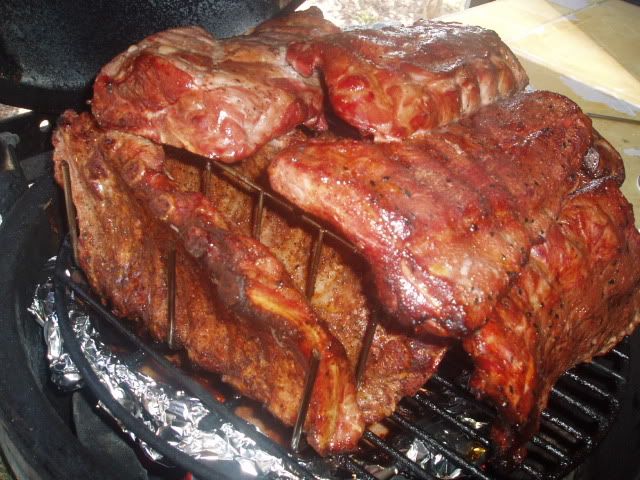 [p]After another 90 minutes or so, I put them all into a disposable aluminum pan covered with more foil and put back on for about an hour. I originally planned on taking them out of the pan and finishing direct for a few minutes, but when I pulled them from the pan they were DONE! Using the trusty ThermoPen all were between 195 and 205. Setup was indirect, platesetter w/feet up holding a dip pan, with rib rack on the grid. Started with a dome temp of about 190 and it slowly rose to about 260 at the end of the four+ hours.[p]Pulled, plated and ready to eat.[p]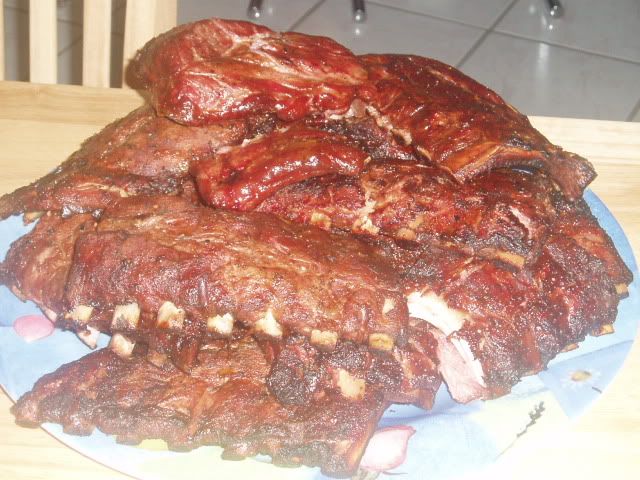 [p]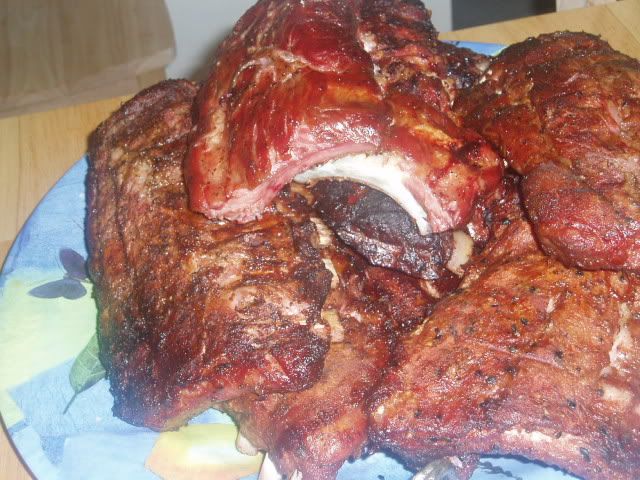 [p]My much better half (shown here with her "baby") said they were the best I have done so far. Who am I to argue?[p]
[p]On Saturday did 12 chicken breasts for lunch variety this week and some nice rib eye steaks for dinner that evening, just got too busy to take some pictures.[p]Have a GREAT day!
Jay
Have a GREAT day!
Jay
Brandon, FL