I'm at the tail-end here...I got home at 1 AM Monday morning and am not through unpacking yet. It was a jam-packed and energetic weekend and full of wonderful people and amazing cooking.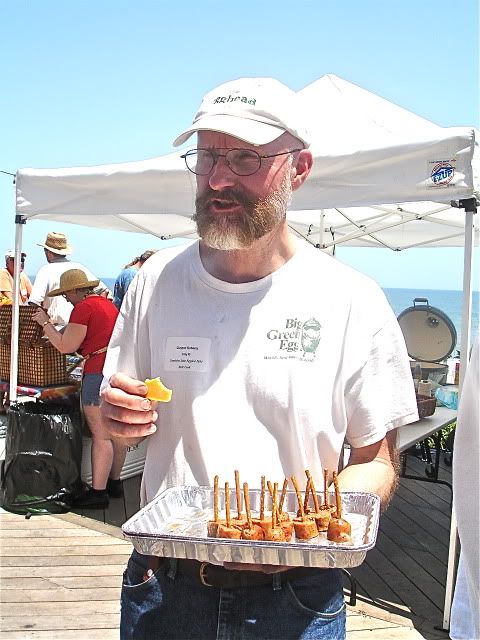 This is ClayQ and the wonderful bratwursts he brought from Wisconsin. I haunted him till they were ready to serve. When I lived in Madison WI I spent a lot time at the Brathaus restaurant.
Here are pix from the Iron Chef contest: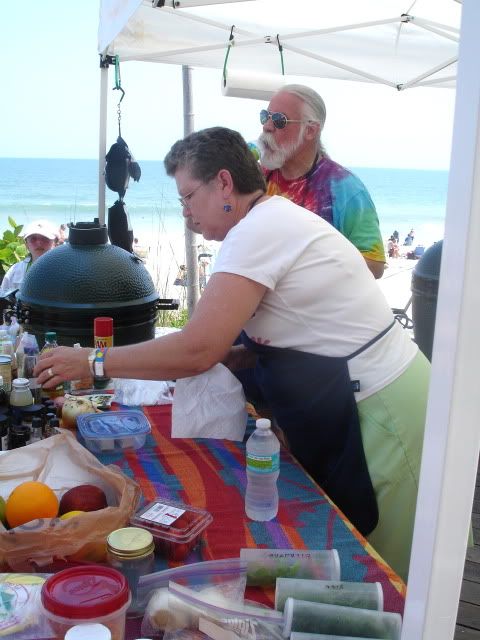 Jay (SSN686) and Kathy. (One of my best taste memories: Jay and Kathy's incredibly delicious Pineapple Upside-Down Cake. Watch for it when the recipes are published.)
Julie (Mainegg), "The Girl With the BGE Tattoo," now on the best sellers' list.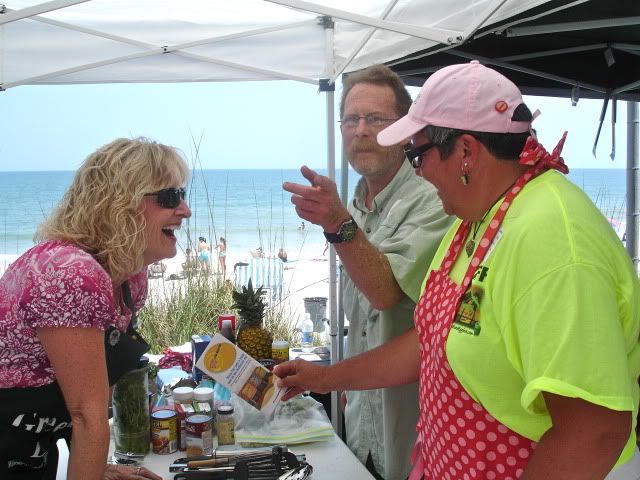 Faith (Florida Grillin Girl), Dr. Bill (lowercase bill), and Julie were the team.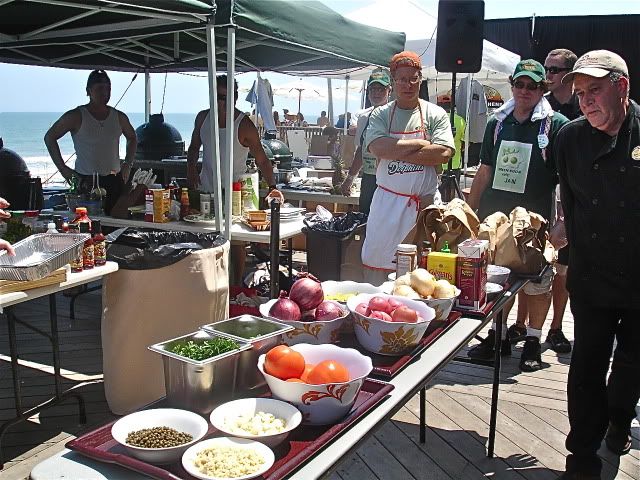 The first round of ingredients for the competition displayed. The tomatoes were the first to go, and garlic was second.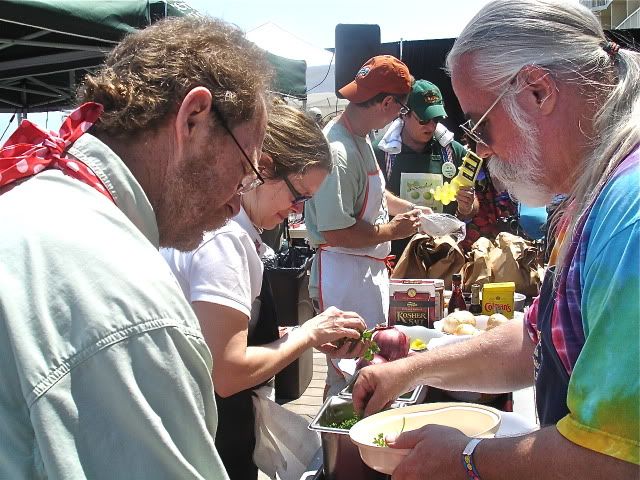 BILL (lowercasebill), Rebecca (eenie meenie) and Jay (SSN686) choosing ingredients. [It is just a possibility, nothing definite to go on, but I think eenie meenie (Rebecca) may have hidden lowercasebill's shoes, which forced him to go barefoot for the ENTIRE weekend. That's why SHE stepped on the hot grape tomato (karma) and lost her glasses (temporarily), and Bill went without a scratch. Just a theory.]
JBUG99999
I believe his name is Carlo. I could only take good pictures of the two teams in good light, as the tent over the further teams made it too dark to photograph.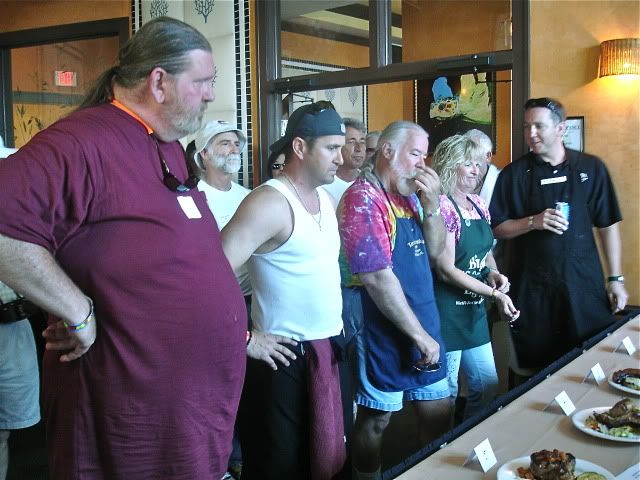 The team captains watching their plates being judged. big'un, Carlo, Jay, Faith, and ?.
The after-party just starting: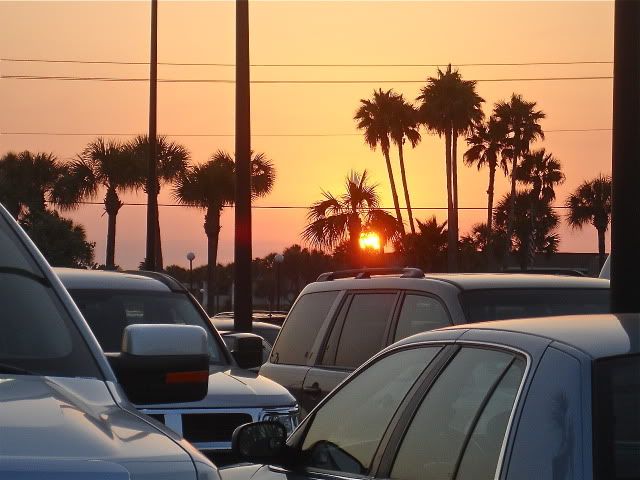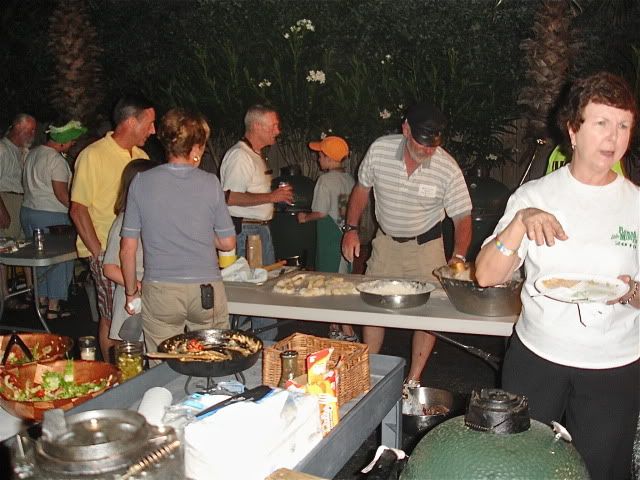 In the foreground is Ruth Dunham, Mrs. Sparky66. A wonderful lady!
That's PattyO in the middle in a gray shirt. Very nice to have met her. The scraped-dry CI skillet in the left corner is from Mainegg's Roasted Grape Tomato dish that set everyone back on their heels.
Jupiter Jim and KayNoCook, two of the nicest people on earth. Don't think Kay is 1) drained of blood...she has full rosy cheeks and is in bad light, and 2) not a cook, as she made me swoon with the first taste of her pineapple pie. Jim has great alligator stories to tell.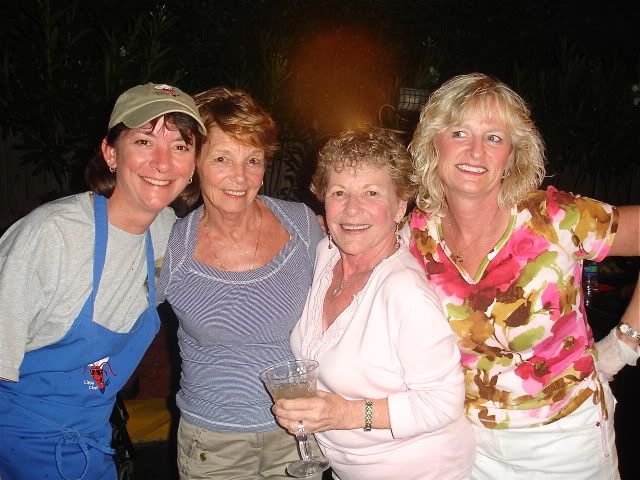 Here are two pictures because Faith wanted to make sure she got the ones she's smiling in. This is #1, Michelle (Little Chef); her mom Barbara; itsy-bitsy Pat, Faith's mom; and Faith (Florida Grillin Girl).
This is #2.
Sabrina and Mike Storno (Pork Butt Mike). He is one of the group that planned this sensational event, and such a sweet guy. I hope he's had time to recharge after all this work!
And a very special thanks to Pat Poolman for picking me up, and to King Richard, my very own personal tour guide to the wonders of Melbourne. Here is a typical saucy Melbourne touch:
The Yen Yen restaurant's famous Heavenly White Prawns that Richard has just about duplicated:
And last of all, thanks for the Pearl hot dogs that he tended with such meticulous care till my plane took off.
I grilled one on the Mini, along with a whole wheat bun, then loaded it Chicago style with mustard, onions, sweet relish, and sport peppers, with a spear of Nathan's Half-Sour Dill Pickles. Yes, I did already take a bite out of one end. Of course you can't see the hot dog under all that. I grilled a whole tomato till soft and the skin slipped off, and mixed it with green beans.
Quite an event-filled few days, and everyone who worked on it deserves a huge round of applause!!!!!
THE END