I did 2 "country ribs" sous vide for 54 hours, and then finished in the Egg at for 45 min. I tried this to see if I could make a small amount of PP. Whenever I have tried the "country rib" pieces of butt, they have turned dry before reaching pullable stage.
Here is a shot of the 2 "ribs" after coming from the 135 F water bath: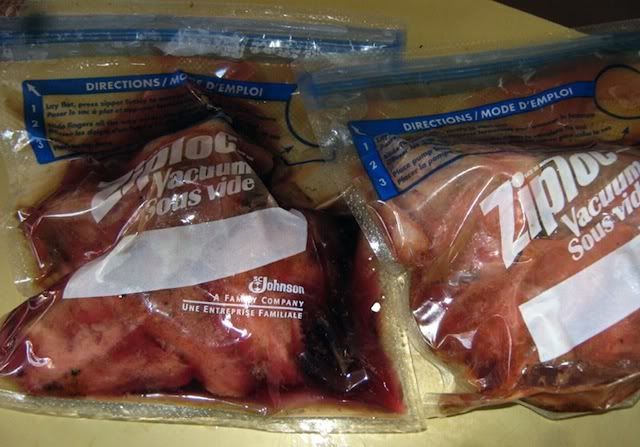 And here they are on a plate. I had to cut them in half to fit in the bag, and one fell apart coming out of the bag.
The measuring cup holds the juices that rendered out. I saved it for stock. Enough collegen had turned to gelatin that the liquid solidified after a short time in the fridge.
I had put a bit of Dizzy Dust on the meat before placing in the bags. I added some brown sugar, Panko dust and paprika to more DD, in an attempt at forming a fast bark.
After 45 min with a dome of 350, the meat was getting pretty brown, although not all of the "breading" had darkened. It was very difficult to turn the meat, because the pieces were falling into smaller bits.
The biggest down side was that much of the fat remained. I was unable to remove enough and the final result was a bit greasier than I liked. The meat was easily shreded with forks.
The shredded meat retained some of the "succulent" or "plump" texture that sous vide gives. The biggest downside was that the quick bark was very inferior to that which forms after 14 - 20 hours. I will make another attempt by chilling the meat after emptying the pouch, and make the "breading" more of a sauce, and hope to get a better bark with something like 1.5 hours in the Egg.