It started with taking grandsons to a high-class steakhouse for an 18th birthday...it was the moans and groans of delight from them over the mesquite-grilled beef that made me do this. (Grilled at 700°...I asked.)
I had mesquite at home that I never used, so I prepared the Mini with Royal Oak a bit below the fire ring. I used Weber starter cubes in three places and lit it.
I used lowercasebill's instructions for scalloped potatoes, slicing Yukon Golds thinly on the Kyocera slicer I already had, pouring whipping cream (NOT heavy whipping cream) in, then a layer of potatoes, sliced garlic, salt and pepper, and repeating till the baker was full.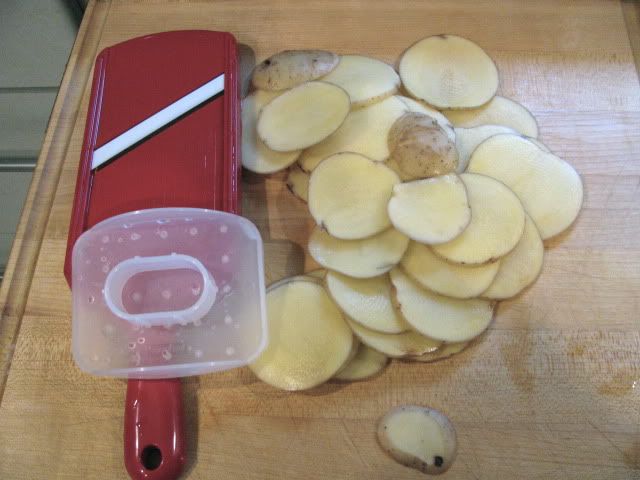 It was a ferociously windy day and the Mini wouldn't stay lit! Finally I used the Mapp torch over the entire surface of the lump and that did it. For the first time I was able to adjust the bottom and top vents to maintain a moderate 350°--what a triumph!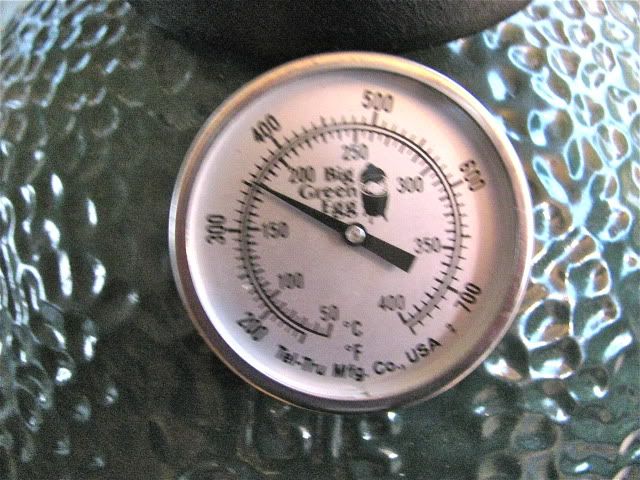 The potatoes took 1 hour 10 minutes to cook. The temp had dropped to 300° by that time and the lump had just about totally burned up!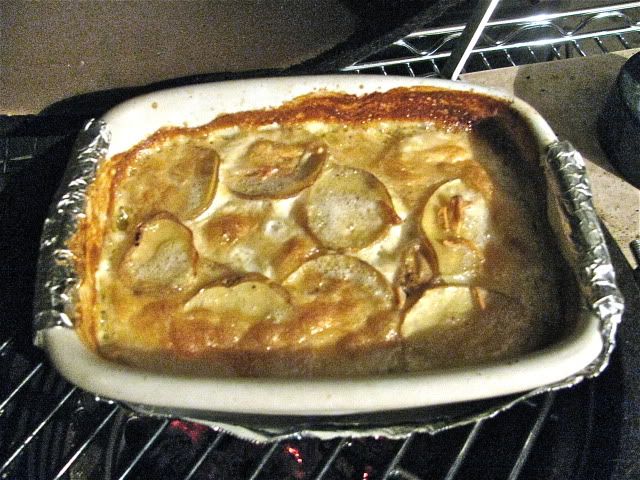 I added a few handfuls of lump and Mapped them to death and stuck in some mesquite, so I could cook the ribeye (sitting in olive oil, minced garlic, and fresh rosemary). In just a few minutes the lump was glowing and ready, so I threw the steak right on the coals.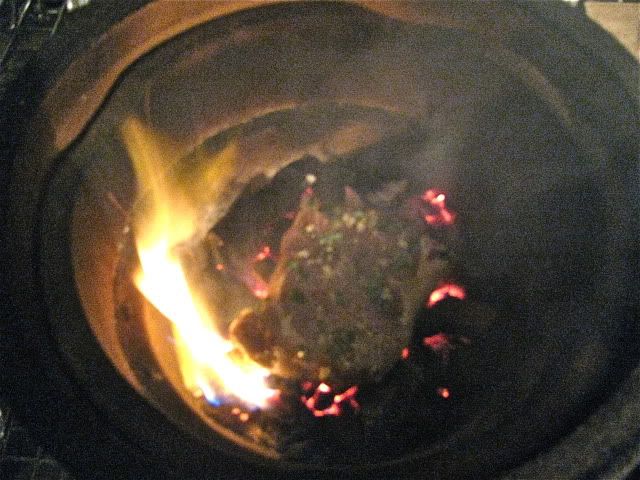 When it was seared I put the grid back on, closed the lid and let it roast till it was 130° internal.
Two conclusions reached:
First, if I'm going to cook something for more than a short time, I'm going back to the Small. This is USA Royal Oak and I've noticed before how fast the wood burns up in the Mini, like Cowboy does any time. I never had this problem with the Small or the Large. I've mastered 350° but it's taken weeks. It's a lot of time and twiddling just to do that, and I prefer the dependability of the Small.
Second, lowercasebill's free-form directions on the scalloped potatoes at
http://www.eggheadforum.com/index.php?option=com_simpleboard&func=view&id=1042937&catid=1
resulted in the most delicious--indescribable, really--creamy potato dish ever. The cream reduced to a thick sauce encasing the potatoes. I will never ever measure for this dish.