Hey Dave, After our last conversation from this post.
http://www.eggheadforum.com/index.php?option=com_simpleboard&func=view&id=1054124&catid=1
I did try the two fire ring setup again with the plate setter and green feet and large baking stone. My dome did close and I put my hand down the dome vent and felt around. My hand went between the baking stone setting on the plate setter and between the dome with room to spare. My guess is close to 2 inches all the way around.
I never heated the egg or tried to cook on the baking stone to see how it works. It may turn out to be a great technique that works.
If I asked myself what this setup would accomplish I would have to say you may be able to cook a lot more high temp pizzas in a row because you have more room for lump. Of course this is pure speculation. As you know some have said the setup may add more heat to the gasket area.
I say to anyone reading this I am just goofing around to see if it is possible to set a large BGE up with more lump almost past the gasket surface and do some sort of cook. I already have several ways to get my pizza cooked. I'm just curious. Any thoughts or opinions are welcome.
Here is my large egg setup with two fire rings and the plate setter and the green feet and the large baking stone. The dome will close and there is almost two inches of room all the way around the inside for the heat to go past the baking stone and out the dome. All though I don't know how the convection will work with this setup. :unsure: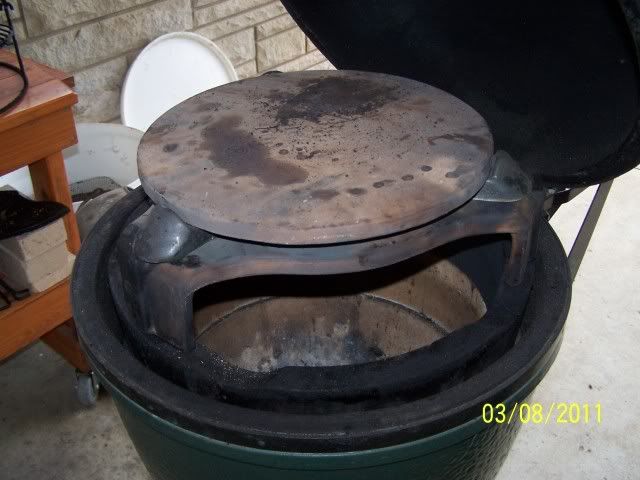 I still think we could grill or even slow cook stuff for a long time. :woohoo: