Recently was at the Tampa Hard Rock Casino and they had a great plate of stuffed portobellos with grilled chicken, saffron jasmine rice and a chipotle sauce to die for.
After recently hearing ads for Burger King Chipotle whatever and Subways's Southwestern Chipotle, I took up the challenge and very happy with the results. Hope some of you like it.
Turkey Tenderloins and chix wings. #250F indirect for an hour.
Cooked:
Plated: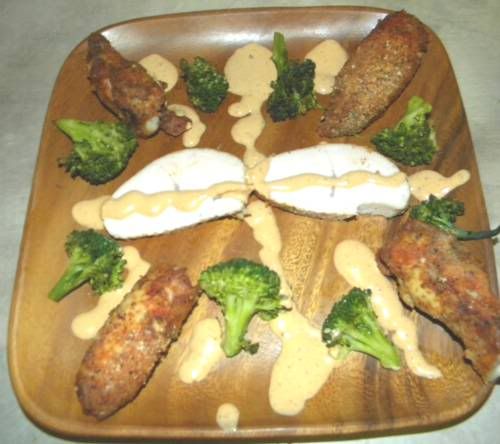 Since the Large was hot and set up for indirect threw some Beef ribs on with teriyaki marinade and some sesame seeds. Cooked 250F 4 1/2 hours.
These only took 4 1/2 hours and I thinks because they were individual ribs. Usually my beef ribs take 6+ hours when in a slab.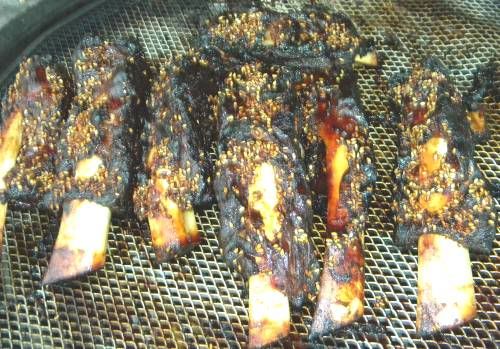 If you are still with me here is the chipotle sauce recipe, worth the eggfort to make IMHO.
Sauce, BBQ, Chipotle, Southwestern, Richard Fl.
INGREDIENTS:
24 Ozs Dukes Mayonnaise
7 Ozs Chipotle in Adobo Sauce
7 Ozs Apple Cider Vinegar
2 Whole Hatch Green Chiles, Roasted
4 Ozs Favorite BBQ Sauce
2 Tsps Holy Smokin' Chipotle Seasoning, or any chili seasoning.
PROCEDURE:
1 Place in a bowl and puree with a stick blender. Place in a -plastic squeeze bottle to use. Refrigerate any leftovers.
Recipe Type
BBQ Sauce/Sauce
Recipe Source
Source: BGE Forum, Richard Fl, 2011/03/03