The morning started really early. Around 1230am as I recall. Clear night and not bitter cold so outside I went hunting planets.
Did a little laser quest action for my son's birthday and my lucky moniker came through again. Three of the four times I've played all with the same "game name" I've been in 1st place. They tried to bust my chops about "political names" but I told him I "always" use that name.

Home late and the chicken was not getting done fast enough so we went for the oven cheat. It did start in the Egg for 2 hours.
Put a candle in a piece and it was time to dig in.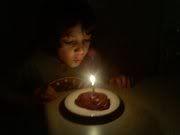 No tater tots but I did have some okra.