Sorry for the delay in posting the 'official' "Loney Fest pics.
I will add a slide show at the end with more pics than the individuals below.
Participants: Mike (Hoss), Adam (Ripnem), Scott (GW), Clark (Misippi Egger), JoJo (Firetruck) and new egger Mike M. (no Handle yet).
The hunting/cooking fest was held for 5 days at this great location.
Adam, Mike, Scott, JoJo
The bar (note the gallon jug of 'Shine in the middle):
The Minnesota boys drove 13 hours straight through to get here and brought elk, pheasant and salmon:
(Sorry Scott, best shot I had)
Food:
Adam fixing up a bowl of Egret's Cowlick Chili I had made a few days before.
Elk burgers
Scott teaching JoJo the fine points of making pheasant 'rollups/poppers'.
Adam refining Scott's instructions
In the cold, grilling the pheasants:
Served up: (Scott, Adam, Jody)
Scott's "Salmon Pizza" (Look out Zippy, you've got Pie competition) ! :woohoo:
Somebody had to sip the "Apple Pie in a Jar"/Moonshine so it wouldn't spill ! :laugh:
Yours truly with a non-endorsement ad for Dizzy Pig !
Several
Giveaways
for the Fest: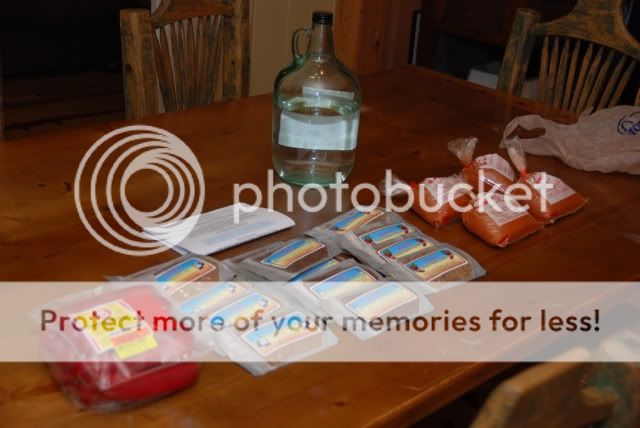 RichardFL sent sample of his famous rubs.
Misippi Egger brought Rebel Rub and some 'Hoover's Sauce'.
Hoss supplied some "Hi-Dollar" sausage. :huh: :laugh: :laugh:
Also, JoJo brought some great venison sausage seasonings (sorry, but forgot to get a pic).
Adam cooking elk tenderloin.
Plated up with good ole mashed taters:
Breakfast - Fried up some left over taters in a large CI skillet.
Followed by scrambled eggs:
Shoved the eggs aside and heated up leftover elk chops.
Plated and topped with the Adam's Famous Pheasant Neuberg (the meal we had been waiting for): :woohoo: :woohoo:
Of course, you've been on the edge of your seat wondering "Where's the 'Loney?". It
WAS
a 'Loney Fest !! Wait no more:
The biggest chub of 'Loney any of us had ever seen, cut into two pieces (5# original weight). Hoss' paste/rub on and ready to smoke.
After 5 hours of low and slow smoke:
Thick-sliced, more rub and grilled with onions:
More hot BBQ sauce and the Sammie is born:
Delish !
Oh yeah, the hunting:
Killed: - one beaver and 2 bobcats by Misippi Eggerr (the predator slayer)
One possum by Hoss
One cull spike by GW (spike)
Lots of time!
http://s463.photobucket.com/albums/qq360/misippi_egger/1Loney_Fest/?albumview=slideshow
Cheers from Hoss the Bestest Host. Until next year: