Occasionally I hear from newbies who still are intimidated by this board and think it is hard to read or follow. Due to that I wrote these step by step instructions on how to master it. Other people may like different views, but I much prefer the flat view myself.

If this helps anybody then it's worth the effort to me!
BGE FORUM SETTINGS
Oftentimes people new to the BGE forum find it to be confusing, hard to read and hard to follow. There are actually several ways to format it and were left in place to appease many people. What I have done here is to list step by step on how to view it in an easy to see and read format. This may seem cumbersome to you at first but these settings will stay in place on your browser until you manually delete them.
I do recommend you register on the BGE board since as a member you can get more information and can communicate with our members via email. As a visitor you can read but can not post. There is no charge to join the board and no fear of spam either. In fact it's a wonderful place to exchange ideas, recipes, tips etc. It is a fun place to visit often!
First of all let's get you to the forum. You should be able to just copy this and paste it on your server's site.
http://www.eggheadforum.com
At the top of the page you'll see some small icons. Clicking on certain ones will collapse parts of the busy screen thus making it easier to read.
Basically let's go by counting them from left to right: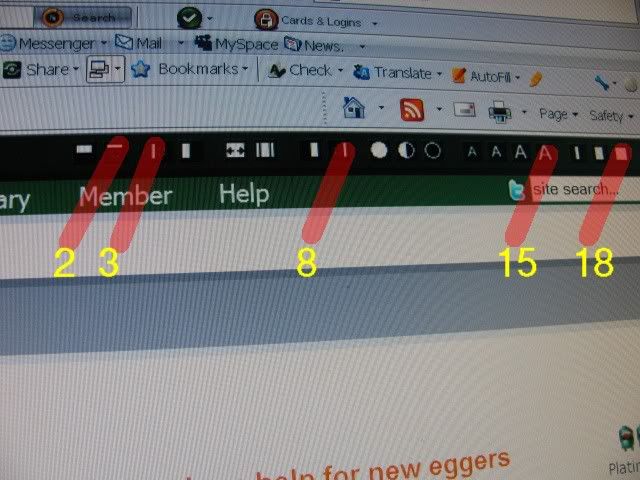 Click on the 2nd one (that hides the top)
Click on the 3rd one (that hides the left side where it shows who all is signed in)
Click the 8th one (that hides the recipes available – you may want to go back and read them so all you do is click on the 7th icon and it restores it)
Now you'll see small different sizes of the letter A Click on the largest A (15)
Now you'll see some squares – click on the largest one (18)
Now you see Special Events – next to it is a tiny red triangle – click on it
Now you see Eggfest Central – click on that tiny red triangle also
Now you'll see more options – but don't despair we're almost done!
Click on Active thread first
Click on flat view
Under Topics click on any of the ones near the top that do NOT have the symbol for a thumbtack
Now click on Classic View
Now you should be able to read and follow the thread along with comments, pictures etc.
To return just click on the word Return
BTW once you do decide to become a member there are some other handy features such as editing your post, emailing other posters, reading their profiles, search engine for topics for the last 10 years of posts etc.
I really hope this has helped you to navigate the BGE board!
Ron Pratt
Posting on the BGE board as RRP